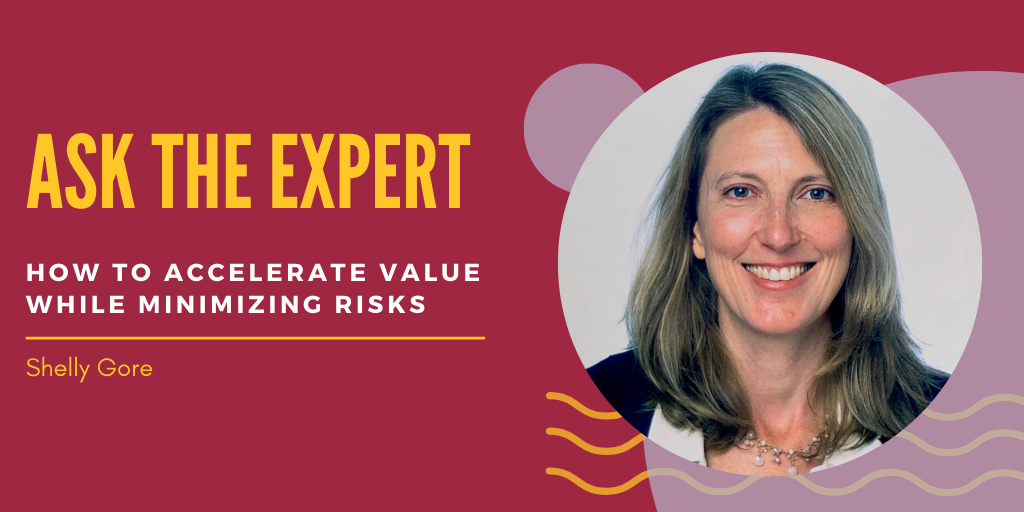 Every Cloud ERP implementation project has a Risk/Reward profile unique to the specific organization and technology that is being implemented.
This article explores a case study where we used a 'quick scan' analysis, with a phased approach, to immediately create value and user acceptance, while minimizing risks and allow the subsequent phase to build on the previous ones. This article highlights six steps that you can immediately translate to your own ERP projects. It also explores what team members are most helpful at each stage of your journey.
The benefit we gained from this approach is it allowed our client's organization to build initial trust in ERP systems to solve issues and free up time while also building internal momentum, skills, and confidence in the technology. To this day, we continue rapidly to more complex and intricate implementations with minimal disruptions.
Note, our case study is a manufacturing and distribution company using Oracle NetSuite, but the principles can be applied to most industries and ERP Technologies. Also, note that this case study is not a full cutover to a new ERP system, but an extension of existing ERP functionality.
We have used many of the same concepts for full implementations, where allowing certain features to be phased in can reduce risk. However, in a full implementation, more rigor needs to be applied to formal requirements gathering and system mapping to minimize risk than in a quick scan.
A cloud ERP implementation can take between 4-6 months and 52% of businesses are involved the entire time. 
Download our free report for more insights into a NetSuite cloud ERP implementation

1. Start with a quick scan analysis
Quick scans are our starting point for any new engagement where we are dealing with an existing ERP system. A quick scan is a high-level assessment and cataloging of a company's systems for getting things done as they relate to the areas we are addressing. This can include IT systems, physical processes, paper trails, and hand-offs to and from other departments—anything impacting day-to-day functioning.
We are not looking for extreme detail or precision, which can bog down explorations, but rather how are things getting done right now with the current processes—people, paper, IT Systems. Business requirements documentation and SOPS should be reviewed, even if these documents are outdated, as they add to the picture.
Interviewing end-users and auditing the current ERP system is important. Look for data quality and information flows. Map any massive new growth, new revenue streams, or additional procedures that may have made processes suddenly unwieldy.
Because my team specializes in manufacturing, on-site visits to observe production and warehouse facilities ensure our quick scans match the real-world functioning of your organization. We try to meet with complainers at all levels of the organization who are frustrated with the current state and have many ideas, some fanciful, others brilliant, about what should change. Combining their input with our broad market knowledge is the sweet spot we are looking to realize.
Note that quick scans are different than gathering rigorous business requirements. Business requirements are an invaluable input to quick scans and an absolute essential for a new implementation. One key difference, however, is those gathering business requirements tend to be more intellectual and forward-thinking, by cataloging all areas equally and often speaking with people in meetings, rather than observing them.
The intention of a quick scan is to analyze the current moment's movements as it exists within an organization with the urgencies, difficulties, and opportunities. "What is the clipboard paperwork for? Why is that done twice?" SOPs and Business Requirement documents fill in missing pieces, but the quick scan is "here, now, and today."
Quick scan resources
Quick scans need to be done with a combination of internal resources that understand the company's business and external resources with expertise in the technology that other businesses have successfully implemented. This is an essential mix because the value focus needs to target specific corporate needs, and we need to understand the exact obstacles and opportunities for each area. As mentioned above, complainers are essential, as are unofficial leaders and the folks getting it physically done!
Our quick scan Conclusion
Our quick scan revealed which areas were the most urgent, which had low/medium/high risk, and which departments were adaptable or resisting change. From there, the roadmap became obvious for our near term goals.
2. Use a phased approach with quick wins
The end product of a quick scan is an assessment, broken down into areas of opportunity, with a phased approach. The most significant benefit of a quick scan is that we are now clear and focused—we know what is urgent, what can wait, what needs more information, and where different solutions need exploring.
At this point, we often hear protests to this approach: "The reason we decided for this new ERP is all of this new functionality, and now we can't have it!" My answer is: of course you can have it all and more, but if we take a measured, phased approach, you will have immediate successes and returns that can be built upon, rather than one big bang with a mix of successes and failures.
So, now we first look for small successes and low-risk quick wins. We want anything that takes the chaos out of the current operations, frees up time from non-value add tasks, and builds confidence in IT systems as an answer to the problems. The more departments we can interact with, the better. We want to create buzz and hunger for technological solutions, so departments start to ask for more.
The team's input
In this phase, we ramp up our team. We want additional internal and external resources that have specific skills for our implementation plan. Two focuses for internal resources are skill transfer and small manageable information-gathering tasks, which will ramp up throughout the implementation.
The small wins mentioned earlier should target these internal resource's day-to-day tasks first wherever possible, freeing up their time for our project. External resources should be skilled in precisely what is needed. If these resources show a talent for teaching, then pair with internal resources to enhance the skill transfer.
Discover the key players in a Cloud ERP implementation
Our examples of quick wins
One of our immediate quick wins was bringing any reports that were being generated by exporting data from our ERP to Excel back into the ERP for real-time reporting. This not only makes sure everyone is looking at the most current, up-to-date information but also ensures we are all on the same page. The further benefit is that eyes are now on the ERP system—which is where we want them.
Here is a simple example of a report that was multi-step and manual, moved into the ERP system for direct export real-time: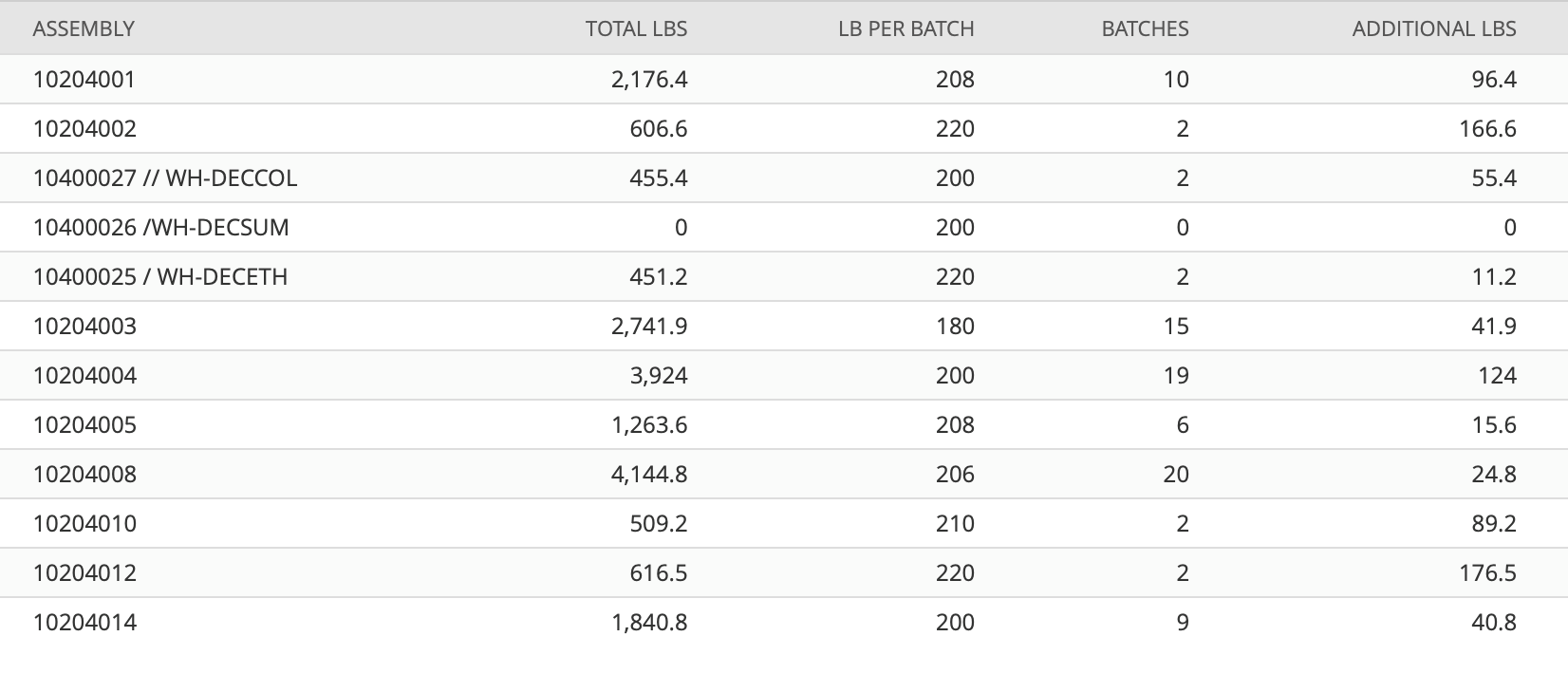 This report was being created at the end of the day using the following steps:
The production supervisor—our #1 target audience for phase one of our roll out—walked through the area with a clipboard, making notes of supply levels.
The production supervisor then took these numbers and entered them into an Excel sheet.
The columns for batches and additional pounds were calculated and entered based on batch sizes.
Lastly, it was emailed to all of the planning team members.
Since the data was already in our ERP, we've replaced the entire NetSuite search and calculated field process from above with the same information on demand to anyone, including remote workers who have access to NetSuite. We've narrowed down the stages from four steps into one, with the bonus of real-time data 24/7.
The process was simple and gave everyone involved access to quick wins. The IT team members gained more visibility over the ERP system, making their workflow more efficient, and it was a big win for us, as it frees up the production supervisor's time for our project.
The next quick win was creating a "Corporate Library" (find an article on how to do this in NetSuite on my LinkedIn). This library allows us to "publish" audited reports and links for all team members to get on the same page. Team members come here first when they are looking for something, and they can see what reports other departments are publishing as well.
Below you see the report referenced above within our client's Corporate Library.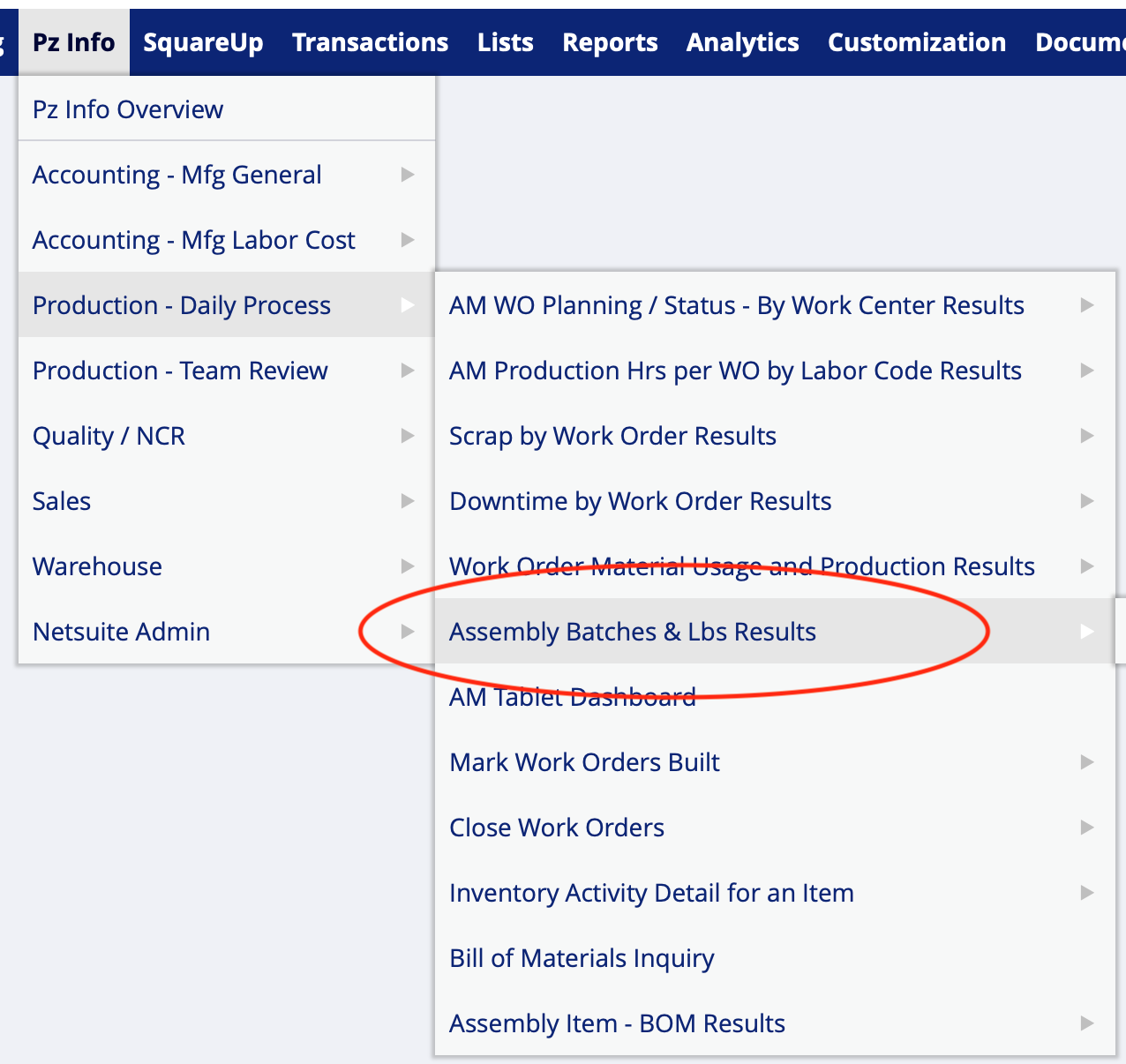 Another example is the renaming of items to have more precise, readable names. This not only paves the way for mobile platforms, but there is less training for new employees and much less data entry error. See the mobile tablet example below, all of the PKG items used to be numbers that had to be memorized or looked up.
BEFORE – Items were numeric, not human-friendly:

AFTER – Items have human-readable names:

This is very visible to everyone, and the buy-in was HUGE! Your goal in the "quick win" stage is building confidence and having teams constantly asking you for more!
3. Fully implementing one area with low risk and high return
After implementing the quick wins of stage 2, a focus area should be chosen. This could be a department with the most chaos, with the most to gain or the best chance of success due to the players involved.
Resist any temptation to expand the scope; it's better to have a small, highly successful implementation than a big splash with a mix of successes and failures. Similar to the previous example with our production supervisor, try to free up time from the resources you need for your project.
The team's input
If this is a large rewrite to your ERP, you'll often find the majority of the functionality will need implementing at the same time. However, try to look for any areas that are easy to phase in after, like any paper-based quality processes that can remain paper-based until the initial implementation stabilizes, and phase wherever possible.
This keeps project team members focused on a set of end-users and processes, and greatly increases your chance of a highly visible success story within the organization.
Our first major Cloud ERP implementation
We chose to focus on the production department with the foundational goal of improving their inventory accuracy— which impacts their entire operation. We consciously decided to disregard anything extra that included the finance and accounting teams, who would be our focus only after this initial implementation. This made even more sense because the data collected by the production department would inform and verify yields, costing, and run rates, which directly impact financials.
Because we were implementing a NetSuite advanced manufacturing's interface with a mobile table, other secondary benefits tagged along naturally with little extra effort, and we quickly phased those in following the initial rollout.
These benefits included: real-time production run rates, scrap factors, and downtime accountability. However, we made it clear that these benefits depended on the proper use of the system, which was our only focus for the first month.
The "rollback plan" for our teams was simple: continue using your time-consuming, ineffective, manual, paper-based systems that you currently have in place.' When we announced this, there was more fear of staying with the old systems than moving to the new functionality. Also, we made it clear that 100% accuracy for the first week was a bonus but not to be immediately expected. Double-checking, mentoring, and guiding were top priorities.
We had a very successful 'go-live' stage, with our first production efficiency reports completed in the first week. Inventory accuracy improved each month steadily, going from thousands of lbs of variance to less than 100 lbs within the first three months.
As data collection continued, we started to have trends emerge and were able to update our run rates, component yields, and downtime costs, allowing the involvement of finance to improve naturally. Most importantly, departments were now asking us for reports and systems instead of us chasing them for information and cooperation.
4. Choose your next area just as carefully as you chose the first
After a successful go-live stage of the new functionality, you will suddenly have a high demand for more systems. It is tempting to think that because the first area was so successful, everything will now be just as easy. This is a dangerous moment, so do not let your guard down.
There are many examples throughout the history of humankind where a highly successful person got bogged down with unexpected difficulties on their next venture. Each area has a unique risk-return profile, and one failure stings an organization for a long time. You'll want additional functionality that sits upon a solid foundation that has been created in the previous steps, but it is still a cautious process.
Stop and examine lessons learned from the prior successful implementation. What was easy? What was hard? What are the unique characteristics of the previous project that will change future areas?
Also, look back at the landscape, perhaps you'll need to perform another quick scan to determine what area should be your next focus. Ask yourself: what is the logical next place to focus? What has the most significant return with the least effort? Which department has the whole team ready to mobilize? What skills still need to develop?
Go back to the original quick scan and choose your next move wisely. Your mindset should remain: the lower the risk, the better, unless returns or chaos guides otherwise.
The team's input
In terms of staffing, reexamine your internal and external teams. If you have not heard of the 'Peter Principle,' please look it up. It is vital that team members stay happy, empowered, and that individuals are there based on their abilities, not past successes in a different circumstance. It's also essential to bring new talent to the team to supplement the current skill set. Look both externally and internally as you retool the new group for success.
Our natural next step
For our client, the natural next step was to work with finance to dial in accurate labor costs. Because the production team was now familiar with the advanced manufacturing tablet and errors were minimized, the collection of additional labor data on the tablet could now provide the foundation with a further analysis that accounting and finance were looking for in the ERP system.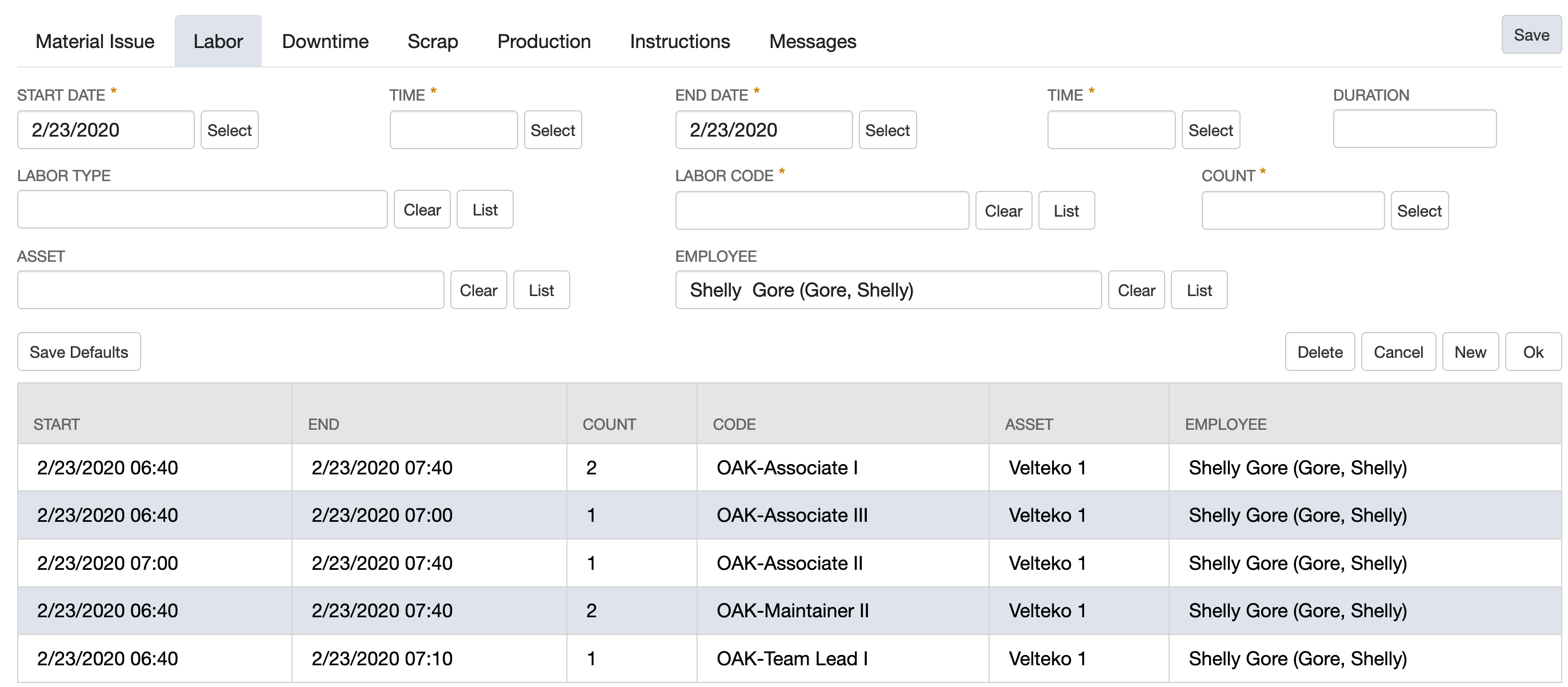 5. Prepare the organization to manage their ERP long-term
As your implementation matures, data will evolve into business intelligence that can improve efficiency, and uncover other department areas that need updating.
The team's input
This is a moment to change the makeup of your IT team from short-term external experts in specific fields, to internal personnel, who will manage the systems in a broader sense. A big focus will be knowledge transfer and hiring internal resources that will carry the torch forward.
Our long-term strategy
We assigned three internal people to manage the implementation on a long-term basis. On the team, we had a NetSuite ERP administrator, responsible for the item master and creating user permissions, and two data administrators checking for data entry accuracy and completeness.
6. Stay in touch with your client
ERP projects naturally ramp up and then settle back down. Staying in close contact with the businesses we work with allows us to revisit and continue the journey together.
The majority of my relationships with clients are multi-year with lots of changes for both of us. Companies may be acquired, to perform their own acquisitions or go through significant changes while growing into new markets. Because we were intricately involved and had our pulse on the technology market, we were in a unique position to advise them. So stay in touch!
My most rewarding projects are often with clients who we've successfully navigated an exhilarating journey of implementation before and they are now ready for their next step!
Hire a NetSuite consultant you can trust. 
Our team of staffing consultants has selected and vetted over 12,000 NetSuite professionals ready for you to take your pick of the very best consultants in the ecosystem for your cloud ERP implementation. 
---
About the author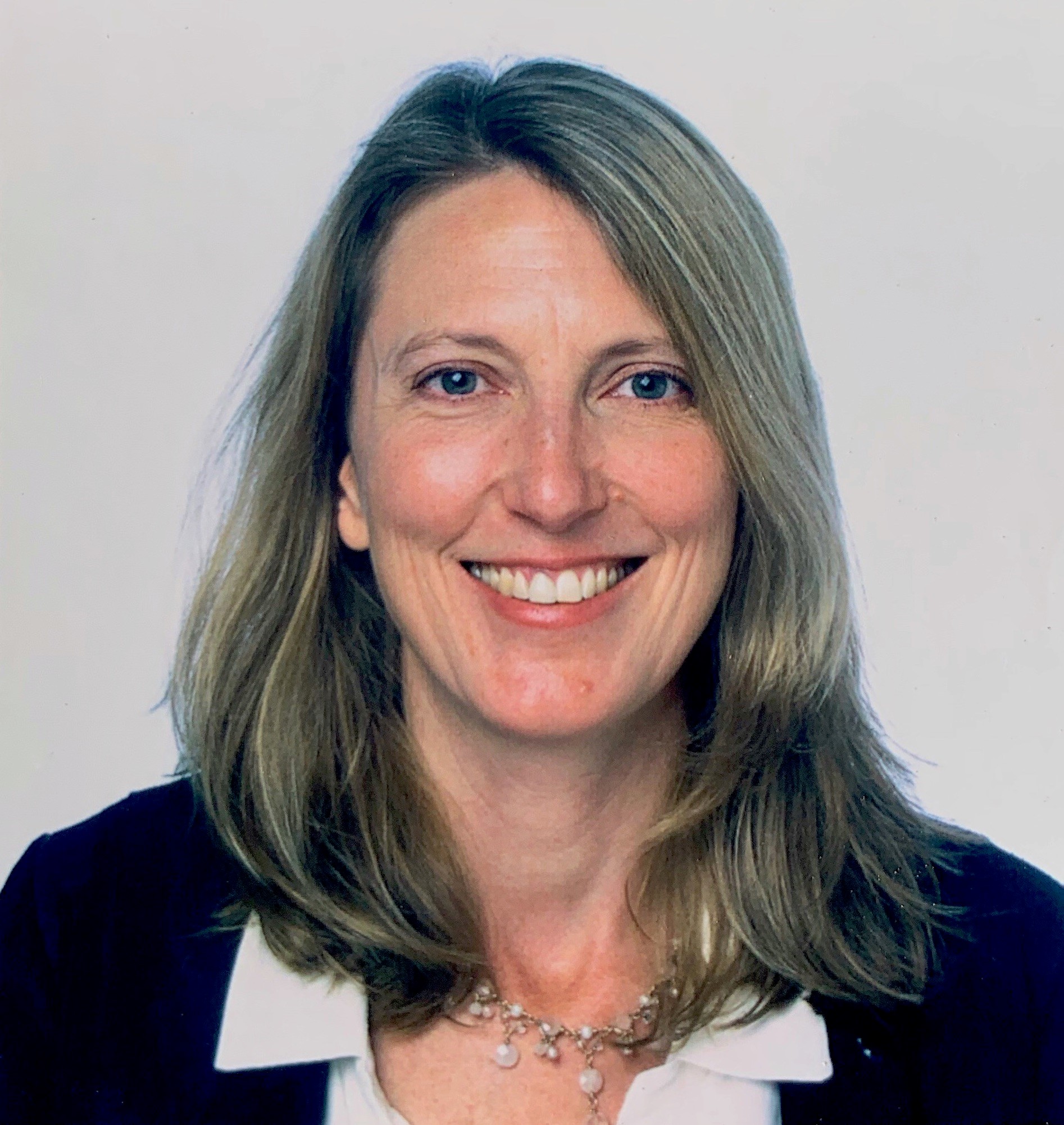 Shelly Gore is a proven leader in cloud-based ERP systems. She has designed and implemented complex architectures such as NetSuite Advanced Manufacturing, NetSuite OneWorld, demand and supply planning, EDI, standard-variance cost accounting, quality, capacity planning, finite scheduling, and WMS. Shelly creates and implements targeted roadmaps, unique to a corporation's requirements, that maximize best-of-breed technologies and ROI.
Her goal is to bring clarity, simplicity, and focus to complex processes. Shelly is also featured in our 'Influential women in NetSuite' article.