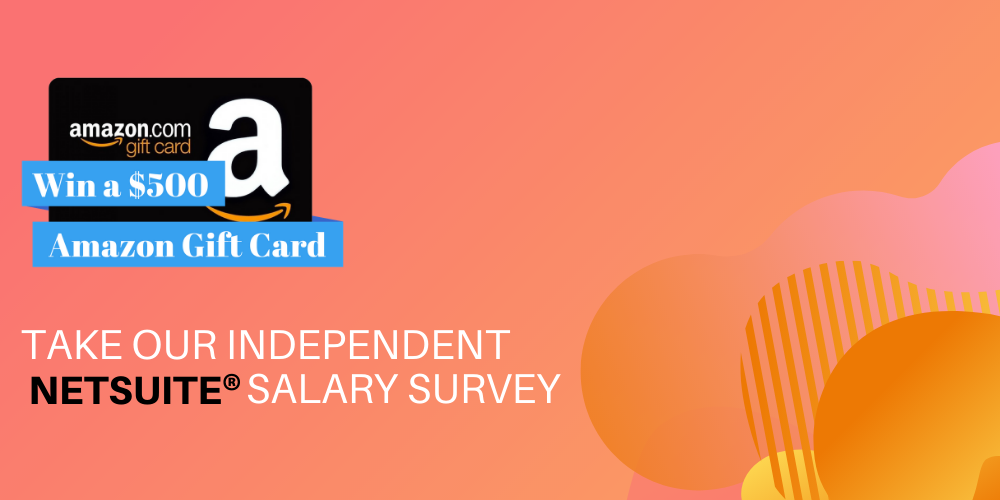 Anderson Frank's 2019/20 NetSuite salary survey is now open!
---
---
NetSuite predictions 2020
This is your opportunity to have your say on the NetSuite industry, including products, salaries, benefits, and working culture.
Your thoughts on the NetSuite market are important and, by taking our survey, you will be helping others in the ecosystem get valuable, up-to-date insights into the NetSuite industry.
It takes less than 20 minutes to participate in our survey, and you'll have the chance to win a  $500 Amazon gift card.
If you work for a NetSuite customer, tell us about your experience migrating or implementing NetSuite, specifically:
The benefits and challenges of implementing NetSuite
The legacy software you've replaced and why
Your experience with NetSuite partners
Your advice for any of your peers looking to implement NetSuite
If you work for a NetSuite partner, share your thoughts on:
The NetSuite projects you've been involved in
Your exposure to the latest NetSuite products
Why you might consider working for a NetSuite customer
Everyone taking the survey can tell us about:
Certifications, training and online resources your peers might find useful
Perks and benefits
The biggest turnoffs when looking for future employment
Diversity and inclusion
Remote working and job relocation
What you'd like to see in the next NetSuite release
The eventual report will be launching exclusively at SuiteWorld 2020 for the general public, but as a thank you for participating in our survey, a digital version will be delivered to your email inbox as soon as the report is ready—you'll be privy to our findings before anyone else.