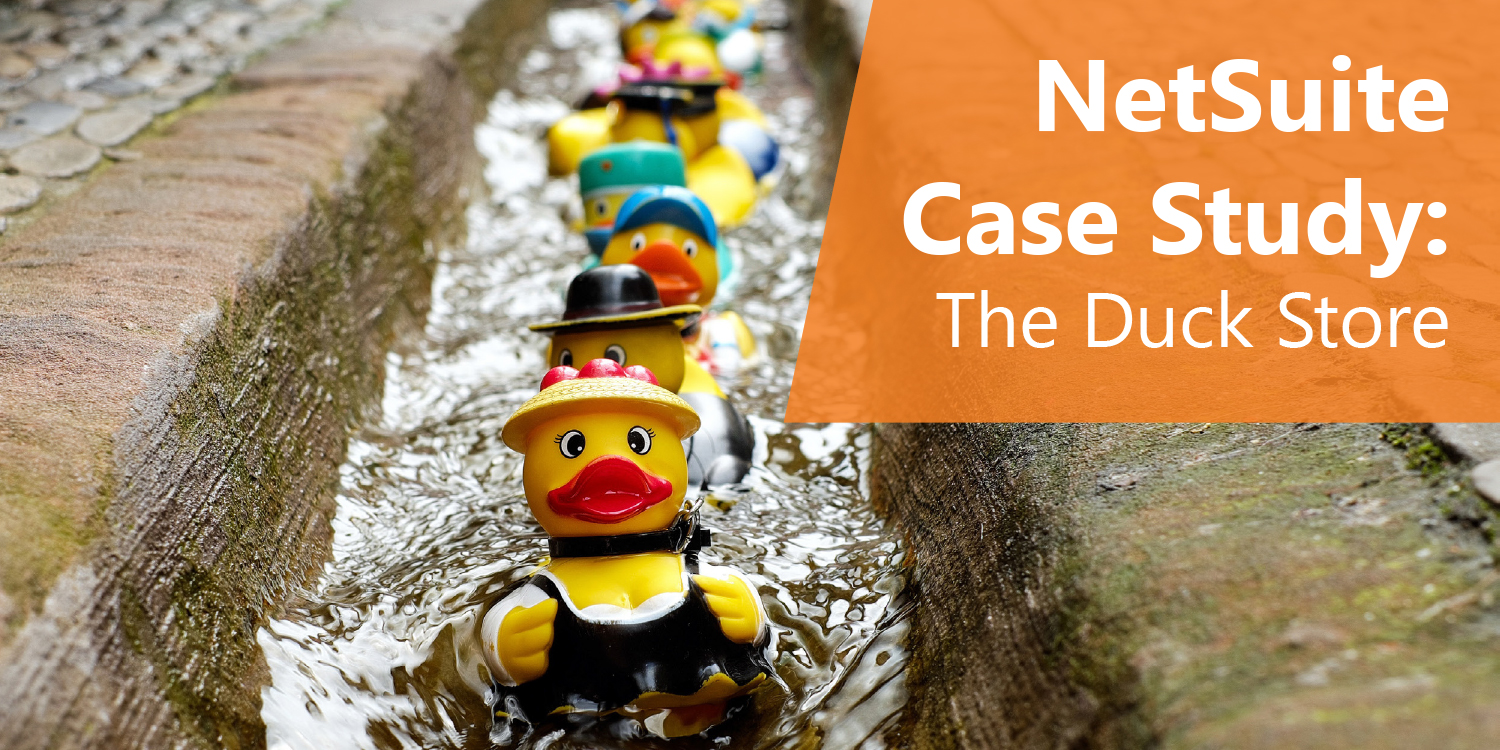 Last year, The Duck Store decided to get away from the inflexible green-screen application that it had been using for ERP and Point of Sale (POS) This legacy system, among other inconveniences, required the store to use separate shopping carts for different areas of the store. It got to the point where the store was beginning to fear losing market share to retailers using more modern systems.
"We really need to be able to show customers that when they're coming to us, they're coming to the true campus community store," said Alex Lyons, the Duck Store's strategic team leader, in a NetSuite-produced video about the installation.
"So it became really challenging to meet the needs of our customers given the antiquated architecture that we were working on.
"Without the technology, we risk not being able to be there, and be that," Lyons added.
The Duck Store was looking for a more seamless and modern solution- so they turned to NetSuite, for a sophisticated and ultimately successful NetSuite implementation.
The Duck Store, at the University of Oregon at Eugene, is one of the largest and busiest on-campus retail environments in the United States. The Duck Store has been in business in some form for nearly a century, having first opened in 1920.
It's an independent bookstore that also sells a whole lot more than books. The store's other offerings include school supplies, art supplies, computers and other consumer electronics. There's also sportswear, featuring the many insignias of the Oregon Ducks athletic teams. There's also a coffee shop and restaurant on the top floor. In addition to the main store on campus, there are 11 other satellite locations elsewhere in Oregon. These include the one at the Autzen Stadium football field and in Bend, Ore. According to an Internet Retailer article, The Duck Store's locations and online operations pull in $34 million in annual sales.
Making the Change
The Duck Store, after contemplating MBS and VisualRATEX, ultimately underwent a NetSuite implementation. This installation used NetSuite ERP, SuiteCommerce Advanced and NetSuite POS. The implementation was conducted by NetSuite Professional Services, beginning in May of 2016.
The NetSuite implementation began when the NetSuite team installed more modern systems for ERP, e-commerce, in-store POS and email marketing. In addition, the web store has a whole new interface. The next phase, featuring NetSuite applications that will simplify The Duck Store's complex textbook inventory, will soon go live. These will feature special specifications recommended by professors.
Since the installation, The Duck Store has already begun to see results. Bounce rates are way down, and the mobile experience has greatly improved.
"It was a natural decision to go with NetSuite because of the ERP integration with SuiteCommerce Advanced, and it really did provide us with that enterprise-level platform that we needed," Lyons said.
"Our customer experience, either online or in-store, is very seamless with NetSuite," Arlyn Schaufler, The Duck Store's general manager, said in NetSuite's video. "We can't compete on price with some of the giants, but where we have to beat everybody is on customer service, so NetSuite allows us to do that."
Game Day
An important part of what The Duck Store does, in addition to serving the students and alumni on a day-to-day basis, is handling the demand for sports apparel and other merchandise. This is especially true on football game days when Autzen Stadium's 54,000 seats are always full. The success of the football team, in fact, often has a significant effect on The Duck Store's business in a given year, the Internet Retailer article said. The success of the school's men's basketball team, which reached the Final Four this year, has added to the demand.
And the NetSuite implementation has made things much easier.
"The supply chain management part of it for game day has just been awesome," Schaufler said on the NetSuite video. "In this location alone, we'll do $100,000 on game day. And, midway through the day, we can actually have our warehouse pull live inventory and see where the needs are. It's just nice to know that you can pull replenishment at any time and it's live."
Meanwhile, The Duck Store developer who helped put the changes in place, Levi Masterson, spoke about this experience in a separate video released by NetSuite.
Masterson said in the video that he was looking for quick load times and flexibility in his builds, and was therefore thrilled to switch to NetSuite's SuiteCommerce Advanced.
"I am able to do my job more efficiently and effectively," Masterson said in the video. "I can totally customize the code base so that we can really reflect, finetune and craft an experience for our customer bases and our fans online. We're able to have our website display beautifully across tablet to mobile to desktop."
This is done, he said, through a variety of tools, including a popup on the store's homepage and the ability to personalize customer profiles.
"I am really excited to move forward with NetSuite," Masterson said.
For The Duck Store, it's all about keeping the tradition alive.
"The Duck Store really does represent tradition," Lyons says. "With NetSuite as our partner, we'll be able to continue that tradition and that service for generations to come."
The Duck Store is one of several prominent NetSuite implementations conducted by NetSuite in recent months. Others include She Knows Media, Bankrate, Brightpoint Health, Sourcingpartner and iflix. With the completion of the Oracle NetSuite deal, the amount of similar installations is likely to grow.
The Duck Store had a lot of needs for its new e-commerce solution. With its NetSuite implementation, the company was able to fill just about all of them.
Need a NetSuite professional?
Tell us your requirements and let our sales experts find you the perfect candidate.