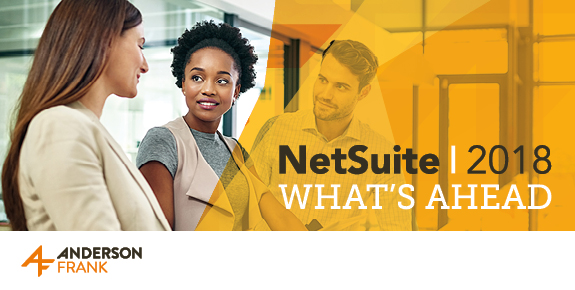 As 2017 draws to a close, what does the industry think we can expect from NetSuite in 2018? 
There have been plenty of changes for NetSuite since its 2016 acquisition by Oracle. With the 'Think global, act local' mantra ringing in our ears we have reached out to NetSuite solution providers and influencers from across the globe, to see what they believe is ahead for NetSuite in 2018.

Eric Smith is a NetSuite specialist, marketer, and blogger. Serving as Director of Marketing and Alliances with Cumula 3 Group, a leading Silicon Valley-based NetSuite Solution Provider.
With NetSuite heading into its second year as part of Oracle, Eric believes that the maturation of the acquisition will produce greater product offerings for existing and future NetSuite customers. "For example, the recent launch of Oracle Planning and Budgeting Cloud Services (PBCS) for NetSuite will be a game changer for savvy NetSuite users looking to solve enterprise-wide business planning use cases across multiple industries."
With these increased opportunities, Eric sees some positive changes ahead for smaller businesses: "You are going to see SMB sized companies with progressive leadership, leveraging this leading technology that was once reserved for only the large enterprises, better predict business trends and make more accurate decisions to scale their organizations faster than ever before."
With the additional R&D boost supplied by Oracle, Eric would like to see more development around areas of the current NetSuite offering, "such as advanced customer pricing models, manufacturing quality and warranty management and support for things like saved search joins and customer management across subsidiaries to name a few."
What is Eric's prediction for NetSuite in 2018? "You will continue to see significant NetSuite adoption by SMB's in the e-commerce and/or retail space looking for a unified system to run their businesses. eCommerce is on fire right now and NetSuite has a major advantage in the marketplace by offering clients a fully integrated CRM, ERP and eCommerce platform to run their business."

Laurie McCabe has over 20 years of experience in the IT industry, she is a Co-founder and Partner of  SMB Group. She enjoys widespread recognition for her capabilities and insights in the small and medium business (SMB) market. 
We asked Laurie her thoughts on the changes that she sees for NetSuite in its second year as part of Oracle. She believes that as long as Oracle gives NetSuite the freedom it needs to make the best choices for its customers, things will work out well for NetSuite, for two reasons.
Firstly, "NetSuite and Oracle have always been pretty tightly coupled, both in terms of technology (Oracle's database is at NetSuite's core), and Larry Ellison's majority stake in NetSuite prior to the acquisition, and the fact that NetSuite CTO Evan Goldberg spent years at Oracle before starting NetSuite.
"With access to Oracle's resources, NetSuite should be able to grow faster than it could have on its own. Oracle provides NetSuite with much greater capabilities to localize and sell into new geographies, and with infrastructure and data center support, that will free NetSuite up to focus more on building out applications and vertical capacities and less on plumbing."
Secondly, "as a brand under the Oracle umbrella, NetSuite is freed from the burdens of operating as a separate, public company."
Will SMBs be a focus for NetSuite in 2018?
Laurie has ideas for what she would like to see from NetSuite in 2018, including adding more capabilities in areas such as IoT, AI, and machine learning. And, she'd like to see NetSuite "do it in a very intuitive way so that customers don't have to do a lot of heavy lifting to take advantage of these capabilities."
"And in a multi-cloud world," she added, "I'm sure that NetSuite will also continue to make it easier to integrate with other solutions. It would also make sense for NetSuite to put more focus on CRM, in support of its unified solution story. Finally, I hope that NetSuite continues to focus on SMB requirements."

Ponziano Ciampi, Co-Founder & Executive Chairman of Clustin, the primary NetSuite solution provider in Italy.
As a product, Ponziano believes that NetSuite will prove itself to be even more relevant in 2018, in terms of how well it responds to market demands that are seeing the transition to the cloud as a natural response to increasingly fast-paced business requirements.
Though, he concedes currently, the cloud is still not for everyone; "Companies that choose NetSuite are fast growing, often through acquisitions, organized in multiple subsidiaries and controlled companies with specific financial consolidation requirements. In a nutshell, they are all very healthy companies."
He believes that the potential for NetSuite in the future goes far beyond just dealing with clients who exhibit these characteristics.
"From 2018 the focus will be increasingly on vertical market specialization. In addition to the professional services and software sectors, NetSuite is investing in many vertical markets (wholesale/distribution, retail, manufacturing etc) to complete and fine tune its offering within these sectors.
"Without doubt, the contribution of its network of solution providers, who have lead the way with their implementation experience in specific verticals, has been important. NetSuite can capitalize on this experience to enrich its commercial proposition in a structured way."
In the past, NetSuite has been very focused on North America. Thanks to the Oracle acquisition, its strategy has effectively had a global acceleration; "This is already producing excellent results which should continue into 2018," Ponziano adds.
He also thinks that NetSuite is going the right way about perfecting aspects of the solutions accounting localization, by working carefully country by country. This process of understanding and integrating the local needs of the counties that they are expanding into will place them in an even stronger position for future growth.
There could be changes for Solution Providers in 2018.
Ponziano has a final word of warning for current NetSuite Solution Providers; "Compared to the Global Systems Integrators (GSIs) they are relatively small in dimension to compete in a global context – the largest in Europe have between 15 and 100 employees. With projects becoming more and more global and specialized, there will be no way out. Every NetSuite Solution Provider will have to take account of their ability to invest, with the consequent risk of entry into the domestic market of new competitors with broad shoulders."
He believes that the Solution Provider ecosystem as a whole needs to reflect on the current recruitment by NetSuite of new providers from the Oracle Partner Network. "They are dimensionally more robust, have a lot of experience, a broader proposition, and an international market. It will be a challenge for the current NetSuite Solution Provider ecosystem not to be swallowed up, although everything is to play for in 2018."

Our thoughts on NetSuite in 2018.
There is definitely a theme from our contributors about changes they see coming from NetSuite in 2018. They expect to see their reach increase not only to other parts of the world but to smaller companies that previously would not have been of interest to them.
We have already seen improvements in Netsuite's vertical market specialization offerings with successful expansions into retail, non-profit and wholesale distribution to name just three. This looks to be a direction that it will continue to follow through 2018.
With Oracle's backing, NetSuite has set itself on a global growth journey. We shall have to see over the next year if this accelerated expansion leaves its current solution providers behind, or if will they be hitched to the NetSuite 'wagon' for an exciting ride.
Gain further insight into the future of NetSuite
Download our independent Netsuite marketing report to learn about the latest market trends, salaries, and sentiments within the NetSuite community.