NetSuite and Oracle hold Wall Street presentation
On January 18, more than two months after announcing the completion of their merger, NetSuite and Oracle held a presentation at the New York Stock Exchange.
https://twitter.com/NYSE/status/821846803402424320
At the NetSuite Oracle event, executives from the two companies rang the closing bell at the Stock Exchange about a month after NetSuite stock was delisted. After that, at a separate event in the NYSE's boardroom, which was attended by about 150 people, they made a series of announcements about their plans for their future, including new incursions into retail for the NetSuite brand.
Leading the event was Jason Maynard, executive vice president of strategy and corporate development for NetSuite, and Rod Johnson, senior vice president of ERP, EPM and SCM business for Oracle.
Oracle CEO Mark Hurd also spoke about Oracle's plans to globalize the NetSuite brand. This will entail NetSuite catering to small and midsize companies while incorporating Oracle technology in regards to HR, planning and marketing automation into NetSuite.
Meanwhile, NetSuite's Zach Nelson discussed Oracle's investment in NetSuite, as well as its expansion into new industries and global markets. And Steve Miranda, executive vice president of development for Oracle, told the attendees about integrations between NetSuite's GL module and Oracle's planning and budgeting modules.
The Oracle and NetSuite event had been touted as an opportunity for companies of all sizes to learn how to benefit from NetSuite and Oracle's combined resources. Hurd was there to talk about the companies' integration plans, while NetSuite's Nelson, formerly the CEO but now an evangelist for NetSuite, talked about Oracle's investment in NetSuite's worldwide expansion.
And there was more NetSuite news
At the event, NetSuite—now known officially as the NetSuite Global Business Unit—announced that it is entering a series of new industry sectors, including a much larger presence in retail. This seems certain to provide growing opportunities for NetSuite professionals.
Anderson Frank was on hand for the event, where consultants Kevin Ovalle, Taylor Jones and Elena Tinios had the opportunity to meet Zach Nelson: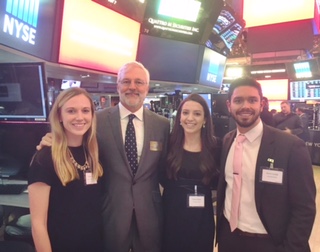 More NetSuite news was made in a blog post later on Wednesday
NetSuite will soon offer expanded functionality to retailers in the apparel, accessory and footwear retailers, as well as advertising agencies and college bookstores. NetSuite had earlier launched a Retail Apparel Edition of its software, which has now been expanded to the footwear and accessory areas, including the addition of such functionalities as inventory tracking and preconfigured reporting, as well as the inclusion of Instagram hashtags.
On the advertising side, NetSuite will make it easier for advertising agencies to measure creative and media spread and profitability, with NetSuite For Agencies. This represents an expansion, once again, of a product that was introduced previously and used for several previous implementations, as illustrated in last year's SuiteWorld keynote on "Best Outcomes: Empowering Your Firm For Excellence Amid Change."
As for bookstores on campus, NetSuite will be doing a lot more of what it already began doing with the NetSuite Campus Store Suite, helping make college bookstores more digital, and establishing customer bonds that last beyond graduation.
"As NetSuite continues to grow and serve a wider and more diverse customer base," NetSuite's head of industry marketing, Ranga Bodla, wrote on the company's blog, "expect to see more sub-segments emerge where we leverage our knowledge of the industry, leading practices and functionality to address customer needs."
The stock exchange events capped a busy week in New York City for both NetSuite and Oracle
On Saturday, Sunday and Monday, NetSuite presented at the National Retail Federation's Big Show at the Jacob Javits Convention Center.
https://twitter.com/NS_Ecommerce/status/820346153967517696
On Tuesday, Oracle held its CloudWorld event at the New York Hilton, where Hurd gave the keynote address: