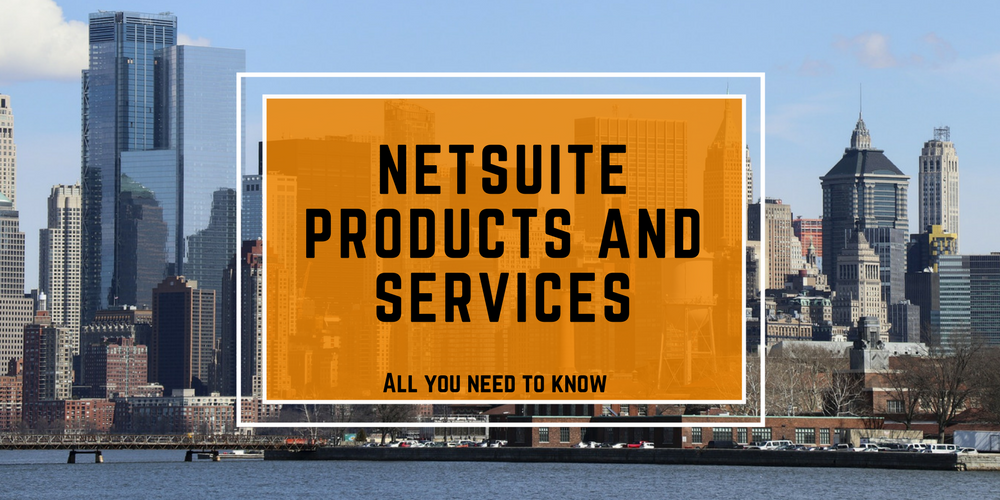 Being the first cloud company has allowed NetSuite to be at the forefront of the cloud computing revolution. With NetSuite products and services in abundance, businesses trust the software to help their everyday needs.
NetSuite claims that companies should choose their products and services for their built in flexibility, commerce-ready ERP, and business intelligence designed for a modern company. But what exactly is on offer?

Jump to the following NetSuite products:
NetSuite ERP
NetSuite CRM+
NetSuite SuiteCommerce
NetSuite Professional Services Automation
NetSuite SuiteSuccess
NetSuite OneWorld


NetSuite ERP
NetSuite's Enterprise Resource Planning (ERP) system has been deployed in over 160 countries by more than 40,000 organizations. It offers a company the chance to run all of its vital back-office operations and financial processes in the cloud. NetSuite claims its 'built-in business intelligence with real-time reporting and analytics equips your organization with a single version of the truth and ignites better, faster decision making.'
It's a scalable cloud ERP solution which allows a company to tailor a package to suit their needs.
NetSuite ERP is broken down into eight categories, each with impressive features:
Category
Features
Accounting

Audit trail visibility
Procure-to-pay
Order-to-cash
Tax management

Billing management and invoicing

Flexible billing scheduling
NetSuite TribeHR
Payroll services
Shipping and fulfilment
Integrated process workflow
Recurring revenue management
Revenue recognition management
Incentive compensation management
Core HRIS
Human capital management

Payment management

Flexible payment acceptable
Fraud prevention
Flexible payment processing
Global ready

Demand planning

Gross requirements inquiry
Supply chain intelligence with MRP
Demand planning machine

Manufacturing

Shop floor management
Manufacturing routing
Product costing
Bill of materials
Materials resource planning

Inventory control and warehouse management

Inventory control
Inventory visibility
Order fulfilment
Cost management

Purchasing and vendor management

Routing and approval
Integrated process workflow
Centralized vendor management

Fixed asset management

Workflow management
Flexible depreciation management
Fixed asset roll forward
Integrated financial reporting
NetSuite CRM+
NetSuite's Customer Relations Management (CRM) solution allows a business to manage both its potential and current clients. It works by efficiently organizing your address book, allowing you to classify clients and automate contacts depending on different factors.
The advantage of choosing NetSuite's CRM ahead of many of its competitors is that it offers sales, marketing, customer support and service, and e-commerce all in the same system. It's a robust solution and marked the company's shift from being just an accounting software to a more comprehensive business solution provider.
NetSuite recognized its customer's needs and split the CRM solution into easily accessible modules, all of which offer a different range of features.
Module
Features
Sales Force Automation

Able to manage opportunities with ease
Forecasting offers which are probability-based
Order management

Customer service and support

Customer case submissions, communications, and status tracking is enabled thanks to online self-service
Real-time dashboards can monitor key factors, including renewals, resolution metrics and customer satisfaction
Supportive of routing and tracking support cases according to issues, case type, product, partner or customer
Business processes automated with case management

Marketing automation

Rapid tracking of campaigns enabled
Email marketing delivered in one system
Upsell marketing supported by historical analysis

E-commerce and flexible customization

Can capture micro-interactions
Greater visibility into products and services provided
Although the solution can't integrate with commonly used productivity tools, it can enhance productivity levels thanks to a 360-degree overview of your customer portfolio. It is also able to improve your sales performance through forecasting, upselling, and commission management.


NetSuite SuiteCommerce
NetSuite SuiteCommerce offers businesses a strong platform that can adapt to each selling and buying scenario. It helps to provide your customers with a personalized and engaging experience on any device, wherever they are.
It enables omnichannel commerce for B2C and B2B businesses by connecting the in-store POS with the customer service, order management, merchandising, inventory, financials, and marketing. It was primarily built to support B2C and B2B e-commerce from a single platform, offering unlimited design flexibility that can help to make sure B2C sites provide the relevant and engaging experience that a consumer expects.
There are many benefits available for customers and businesses using NetSuite SuiteCommerce, including:
Being able to tie e-commerce to your operational business systems.
Consistently delivering a brand experience.
A responsive web design which provides an optimized experience on any device.
Being able to service a customer of any size.
Expanding your online business thanks to selling through multiple brands, currencies, and languages.


NetSuite Professional Services Automation
The software's professional services automation (PSA) was created to help you maximize your services business performance. It allows you to manage the complete bid-to-bill process of your services business.
NetSuite PSA brings together ERP and professional automation functionality. It will increase your visibility and help to improve resource utilization. It will also help your business to streamline invoicing and billing, as well as driving profitability.


NetSuite SuiteSuccess
According to NetSuite's website, SuiteSuccess helps a business in their quest to 'engineer lifelong customer success.' It's built to solve industry challenges by its implementation methodologies and customer code.
It has four key pillars:
Build

It is a complete suite that supports ERP, CRM, PSA, omnichannel commerce, HR and Business Intelligence that's built on NetSuite's cloud
It's continually updated to make sure it supports all industries

Engage

It offers leading practices in every industry and role which includes KPI reports, workflows, dashboards, and metrics
It's flexible and can be customized from initial sales contact, through to the on-going support, adding value at every stage of engagement

Consume

Better ROI and user adoption
Has the ability to help a company go from zero to cloud in 100 days

Optimize

Continuous engagement
Updated leading practices
Customers are always updated to the latest release
Business visibility benefits thanks to 360-degree visibility and reporting time is also cut by up to 55%. As well as this, the time taken to close financial books is decreased significantly, while the software can help reduce the time it takes to complete audits.


NetSuite OneWorld
According to the company, OneWorld 'delivers a real-time, unified global business management platform for enterprises that manage multinational and multi-subsidiary operations—at a fraction of the cost of traditional on-premise ERP solutions.'
It is a tool that helps companies streamline their operations thanks to straightforward dashboards. It enables your business to manage multiple subsidiaries, legal entities, and business units. Also, as well as providing real-time global business insight, it supports compliance of internal and external processes and consistent processes across countries.
However, although it's easy to use, the help system can be confusing, while configuring the solution for a specific role can sometimes prove difficult.
When describing why a company should choose OneWorld, they claim that it:
Will allow you to run your business wherever you are
Helps to consolidate operations and have real-time financial visibility
Runs a functional ERP system directly in the cloud
Calling the financials the 'backbone' of NetSuite OneWorld, the software notes several key features:
Comprehensive multi-currency management
Audit and compliance reporting
Configurable tax engine
Global accounting and consolidation

Jump to the following NetSuite services:
NetSuite SuiteConsulting
NetSuite SuiteSupport
NetSuite SuiteAcademy
NetSuite SuiteAnswers
NetSuite SuiteSolutions
NetSuite Success Services


NetSuite SuiteConsulting
NetSuite SuiteConsulting can help your business to implement and customize NetSuite to suit your specific needs and requirements. It provides a platform to grow your business under a controlled budget.


NetSuite SuiteSupport
In any business, support is essential. NetSuite has introduced SuiteSupport to their arsenal in an attempt to resolve any NetSuite-related issues quickly and efficiently.
SuiteSupport offers online help, such as frequently asked questions and user guides. The tool also keeps you updated with any new or upcoming releases, meaning that you, in theory, should get the most out of your NetSuite application.
According to NetSuite, SuiteSupport's key benefits are:
Global support organization
Includes basic support
Experienced support personnel are on hand
There's round-the-clock phone support
It's tailored to your support level and business need
It consists of a full range of support offerings
The level of support your business receives is entirely up to you. Different severity levels offer a range of time frames depending on which package you have purchased.
| | | |
| --- | --- | --- |
| Severity level | Basic | Premium |
| Severity 1 (critical) | 2 hours | 1 hour |
| Severity 2 (significant) | 4 hours | 2 hours |
| Severity 3 (less significant) | 2 days | 8 hours |
| Severity 4 (minor) | N/A | 2 business days |
Basic support offers customers online support via the SuiteAnswers customer access portal. It also provides access to a NetSuite Support user group which is open 8am–6pm Monday to Friday, excluding bank holidays.
Premium support opens up the helpline to a 24-hour, seven-days-a-week service with priority queuing and early notifications of new releases.


NetSuite SuiteAcademy
This is a program aimed at helping universities and colleges to prepare their students for the real world. It offers them a hands-on experience of the cloud-based business software suite, providing licensing to institutions for instructional use at no cost.
By meeting the students' needs in the classroom, it supports teaching in:
Accounting and financial management
Business admin
Supply chain management
Sales management and CRM
E-commerce
Cloud development
It has recently joined forces with NetSuite's parent company's academy, Oracle Academy. Anyone with any questions is advised to contact the company directly.


NetSuite SuiteAnswers
If you have any questions to do with NetSuite, SuiteAnswers is your go-to tool. It offers online support and cases which aren't answered via the search tool can be created, so you receive the answer you are looking for.
It's available to all customers and partners and provides a searchable knowledge center that is full of articles, best practices, help topics, and training videos.


NetSuite SuiteSolutions
NetSuite SuiteSolutions allows your business to accelerate your implementations. It has a host of ready-to-launch solutions available that address standard business requirements. It also facilitates speedy time-to-market as well as reducing development costs, which enables its customers to achieve business agility by using fewer resources.


NetSuite Success Services
This program is designed to make sure your company is satisfied and continues to grow with NetSuite. The services included are designed to suit any business's needs and each Success Services plan offers an Experience Manager who can work with you to allow you to understand key issues, business goals, and opportunities.
The subscription-based plan can be purchased in several versions depending on what your business requires. The key benefits of the Success Services tool include:
Working with your Success Manager to help plan your online engagement strategy
Get specific e-commerce services that can promote engagement for your site and increase conversions
No need to have a separate subscription as you have access to all e-commerce services
The four subscriptions include the following:
| | | | | |
| --- | --- | --- | --- | --- |
| Available Services (consumers hours) | Starter | Standard | Premium | Ultimate |
| Named success manager | ✓ | ✓ | ✓ | ✓ |
| Assigned technical team | ✓ | ✓ | ✓ | ✓ |
| Development support and execution | ✓ | ✓ | ✓ | ✓ |
| Performance optimization | ✓ | ✓ | ✓ | ✓ |
| Performance monitoring | | ✓ | ✓ | ✓ |
| Usability and user experience reviews | | ✓ | ✓ | ✓ |
| Business KPI assessments | | | ✓ | ✓ |
| Checkout analysis | | | | ✓ |
| Total hours (annual) | 54 | 132 | 204 | 300 |
| Hours/quarter (must be used every quarter) | 13.5 | 33 | 51 | 75 |
Conclusion
It's evident that NetSuite has a lot on offer for any business. The products and services available are intended to make your business more streamlined and cut costs in the long run.
Although they are very much at the top of their market, if you did want to compare, we have some ERP and CRM comparisons on our blog, including NetSuite vs Sage, NetSuite vs Salesforce, and NetSuite vs Microsoft Dynamics. Be sure to check them out and bookmark this page; we'll be providing regular updates.