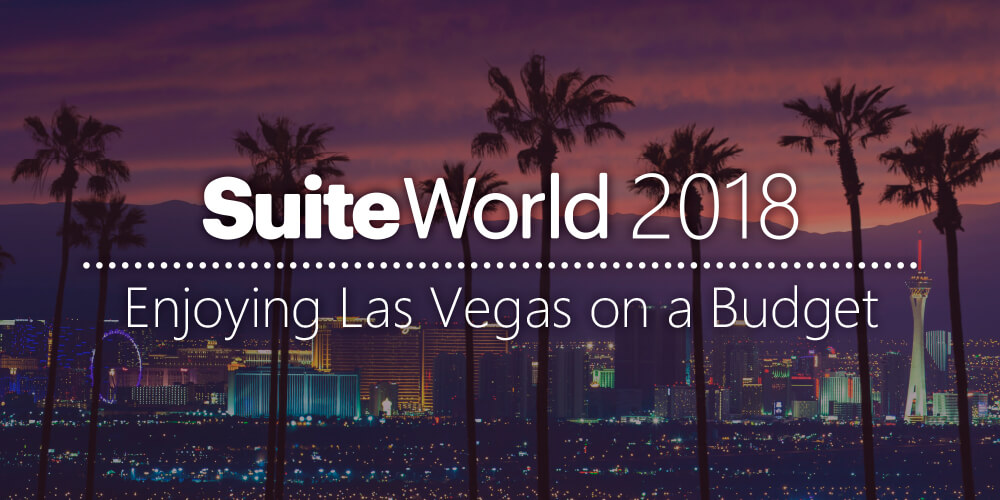 NetSuite's SuiteWorld18 conference is returning to Las Vegas from April 23-26. 
If you're anything like us, you'll already be planning your event itinerary – but have you thought about what you'll do outside of the conference? And more importantly, how much it's going to cost?
Here are some handy tips to get the best out of your visit to Sin City when you have a smaller budget.
Where to stay
Obviously, you need somewhere to base yourself while attending SuiteWorld18. Las Vegas offers every sort of accommodation you can imagine. But, ultimately, it depends on what you want to pay. Let's take a look at some of the options available:
Las Vegas is the place to be if you are looking to stay somewhere extra special. There are a considerable number of large hotels right on The Strip. Depending on the atmosphere that you would like during your stay, you can choose anything from ancient Rome, a Circus, the city of Paris or even a pirate ship! The most expensive hotels can charge anything from $7,000 for a deluxe suite.
With a smaller budget to play with you can still stay on The Strip as most of the hotels do offer rooms at lower prices.
For example: (Prices from booking.com March 2018)
Treasure Island Hotel and Casino: $156 per night.
Paris Las Vegas Hotel and Casino $159 per night.
Booking online will give you the most comprehensive choice. One thing to be aware of is resort fees that most hotels on The Strip charge. They are additional fees that are added to your hotel bill at the end of your stay. Usually, they're daily rates that cover the use of the hotel pools and other amenities, whether you use them or not. Make sure you read the small print carefully before booking your room to avoid a big shock when you check out at the end of SuiteWorld18.
A cheaper alternative can be to stay at hotels that are off The Strip. There is a huge amount available that are just a five-minute walk from the main strip, but their room prices can be remarkably lower.
For example: (Prices from booking.com March 2018)
Tuscany Suites and Casino: $97 per night.
Hooters Casino and Hotel: $109 per night.
Eating on The Strip
Even though you'll have such a good time you might forget, you will still need to eat during your visit. Here are some tips for dining in Las Vegas, that won't break the bank.
There are plenty of chain restaurants that you will recognize all along The Strip which offer reasonably priced food. But if you'd like to try a bit of Vegas 'excess', buffets can be a great dinner option. You'll get to try lots of different dishes and who can resist the all-you-can-eat option? But, they can prove to be quite expensive.
Choosing to eat a buffet meal at lunchtime rather than for dinner can be a much cheaper option. The restaurants offer almost the same number of dishes at lunch as they do in the evening but at a noticeably lower price.
Here's one example for you:
The Buffet at Wynn (Price correct as of March 2018)
Lunch Buffet (Available 11 am–3 pm) $26.99 per adult
Dinner Buffet (Available 3.30 pm–10 pm) $42.99 per adult
There are many different buffets to choose from in Las Vegas offering lots of different styles of food. Take a look around and find one that offers you the food you enjoy.
Getting around
Before the conference starts, or after it ends, you need to be able to get around to take advantage of all the bright lights and entertainment, or just to grab a cup of coffee.
You might be thinking that you will just walk everywhere after you've settled into your hotel.  A lot of people don't realize but the Las Vegas Strip is four and a half miles long. Add in the fact that Las Vegas temperatures can range between 76-96 degrees in April, and you could have a rather tough walk to get to the conference each day.
Here's a great budget-friendly way to get around:
The Deuce is a bus service that runs up and down The Strip from the 'Welcome to Vegas' sign at the southern end, to the Fremont Experience in the north. It runs every 15 minutes, 24 hours a day stopping regularly along the length of the strip giving you easy access to all of the different hotels.
There are various pricing options available: (Prices correct March 2018)
Ride for two hours: $6.00
Access for 24 hours: $8.00
Full access for three days: $20.00
You'll find ticket machines available all along The Strip and tickets can also be purchased on board the bus. Make sure you have the right money with you though, as no change is given.
Rolling the dice
We know you're attending SuiteWorld but when you're in the gambling capital of the USA, you might just fancy a little dabble. Here are some ideas for the would-be 'high rollers' with $1 budgets among you:
Slot machines and other interactive games are available in all of the Vegas hotel-casinos. You can play for as little as one cent in some places. If you haven't visited Las Vegas before, you'll probably be surprised that gambling machines are pretty much everywhere.
It doesn't matter if you're not staying in a particular hotel, all the casino floors are open to everyone – as long as you are 21 years old or over.
One great thing to remember is that while you're playing on the machines or tables, you will be served with free drinks no matter how much you're spending. But, don't forget to tip your server or they'll quickly disappear.
Another way to enjoy a bit of gambling, without spending any money, is to watch other people.  If you are a novice gambler stick to the games with simple rules like Black Jack (or Twenty-One) and Roulette it can be very exciting seeing what's happening on the tables. Standing and watching is never a problem as long as you don't interfere with the play.
Things to do while you're in Las Vegas
If it's your first time in Las Vegas, the number of things that you can do there can be a little overwhelming.  Even if you've been before (maybe you attended SuiteWorld17), you might still need some ideas for what to do after the conference doors close.
Here are some ideas for your Las Vegas entertainment during SuiteWorld18 in April:
Las Vegas Shows running in April (Note: This is just a small sample. There are many more to choose from – Pricing details correct March 2018)
Elton John 'The Million Dollar Piano' in The Colosseum at Caesars Palace (Prices from $155)
Blue Man Group at The Luxor Hotel (Prices from $100)
Jennifer Lopez in The Axis Theatre at the Planet Hollywood Resort (Prices from $105)
David Copperfield at MGM Grand Hotel (Prices from $130)
If you are looking for a taste of a Las Vegas show without the large ticket price, head over to the Circus Circus hotel where you can watch world-class acrobats perform high above you for free in their Carnival Midway.  The shows start at 11am each day.
Then there's the famous Bellagio Fountains – a staple Las Vegas experience.  The water shows run every half hour from 3pm-8pm. Then 15 minutes apart from 8pm until midnight during weekdays.
Make sure you get to a viewing place early so you're at the front of the crowd. Then you'll be able to enjoy the full splendor of lights, water, and music.
If you fancy a drink with a great view of The Strip, you should visit the 107 SkyLounge at the top of The Stratosphere Hotel.  While you sip cocktails you'll be enjoying the same view as the visitors on the observation deck the floor above, without paying the $20 admission fee.
The Fremont Street Experience is also something you should see at least once. You'll find it at the northern end of The Strip.  It's a covered block containing vintage hotels, casinos and specialist shops.  The ceiling is a huge digital screen containing 12 million LED lights. Once per hour it is filled with an incredible light show that lasts six minutes.  At the same time, you can listen to live music, watch street performers and drink in the more 'avant-garde' side of Las Vegas.
A trip to the Grand Canyon
If you haven't visited the Grand Canyon before it's definitely worth adding to your list of things to do. You may be surprised to discover that the Grand Canyon National Park is actually 280 miles away from Las Vegas.
No matter what your budget though, you will be able to find the right priced trip to visit this wonder of the natural world.
Your hotel is sure to offer tour options at the front desk but looking online may offer you lower prices. When booking online, be careful to read reviews from other users and only book trips with reputable tour companies.
Shopping, Vegas-style
Once you walk through a few of the hotels on The Strip you'll notice that there are a lot of very high-end shops available where you can purchase anything from a $40,000 watch to the latest perfume release.  If your shopping budget doesn't run quite that high, don't worry you won't be left disappointed.  There is a good choice of shopping malls available up and down The Strip.
Here are details of a couple:
The North Premium Outlet is at the northern end of The Strip not far from the Fremont Street Experience. It contains over 150 designer and name brand outlet stores and offers discounts of up to 65% on purchases. It's sister outlet, the South Premium Outlet offers the same shopping experience at the opposite end of The Strip. Whichever end of The Strip you're staying, you can access the closest of these outlets by jumping on the Deuce bus.
The Showcase Mall is based at the southern end of The Strip not far from the MGM Grand Hotel.  You won't be able to miss it; there is a 100-foot Coca-Cola bottle outside!  There you will find plenty of shopping opportunities, a cinema, and some cheaper restaurant options too.
Meet us
We're proud to be sponsoring SuiteWorld18 as we launch our brand new NetSuite Salary Survey. Throughout the event, we'll be hosting a series of fun activities at Booth 207 in the Expo, with a range of fabulous prizes.
Alongside this three attendees will have the chance to win $100 Starbucks gift cards in our exclusive social media competition. Follow Anderson Frank on LinkedIn, Twitter and Facebook to find out details closer to the event and sign up to our blog to keep up to date with everything NetSuite-related. We look forward to meeting you there.
If you haven't yet registered for SuiteWorld18, visit the SuiteWorld18 website today. 
All prices and activities mentioned in this post are for information only. Please check the prices and availability of tours and shows before booking.