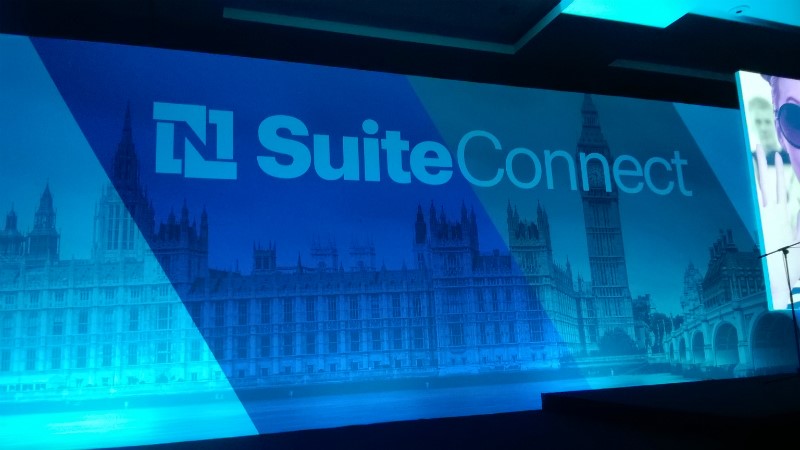 NetSuite's Suite Connect event in London is a great success.
That's according to our NetSuite ERP specialist recruiter, Tom Granter. From the big smiles of the event registration staff to the end of the night Dell Boomi sponsored cocktails and Twitter picture Trunki prize winners, the whole event was buzzing with NetSuite professionals and candidates.
Here are five key highlights to take away from the successful #SuiteConnect event:
The Oracle acquisition
As discussed by Zach Nelson in the keynote, he mentioned 'you may be aware of interesting things going on with Larry Ellison at the moment', to audience Q&A questions from potential customers wondering about price changes. The answer was 'don't hold your breath', no updates or answers here until November. Essentially, NetSuite has even more growth to be had from clients cautious from Brexit, and some are waiting for the dust to settle with the acquisition before jumping on the NetSuite ride.
NetSuite EMEA is booming into new markets
The UK office headcount is currently at 900 people, up from 35 from only five years ago. Growth around EMEA sees either new offices or sole distribution partners in Stockholm, Netherlands, Dubai and potentially some countries in Africa. Apart from geographical markets, it was reported that the Ireland data center is live and running with over a thousand users on it, so we should see new entrants from clients and industries strict on having local data storage.
'Last computing platform' and hybrids
"This is the last disruption," Zach Nelson proclaims. "It's dangerous to say, and it's usually the last thing the CEO top says before he gets fired. But it's the platform you have to leverage to be the 100-year business, whether you get there in a hybrid way or everything all at once."
INSEAD Professor and Innovation thought leader, Nathan Furr, echoed some of Zach Nelson's key observations about technology and disruption and how hybrid business models were now part of the transformation. Furr said: "The cloud has been tough for many companies to adapt to, but the hybrid cloud straddles the old and new. You should be asking how do I hybridize the future?"
Partner and independent software vendors everywhere
Many third-party independent software vendors (ISV) and NetSuite Partners were in attendance. There were 19 stalls featuring leading NetSuite partners, including RSM, Bluebridge One and Nolan Business Solutions in their 'can't-miss' orange t-shirts.
The rest of the stalls were made up from ISVs, including SPS Commerce, Dell Boomi. iCharts, and DSI as well as others. Either way for new NetSuite clients, choosing NetSuite as a transformation product seems to be easier as they will have access to an abundance of other solutions too.
Artificial intelligent (AI) order management and the latest in NetSuite
Based on a live tweet from Computer Weekly journalist, Brian McKenna:
It was announced that NetSuite is looking to expand their ERP systems with an artificial intelligent order management product. Details were scarce, but Zach explained: "Order management is the heart of NetSuite. Our first foray into artificial intelligence is around how the order is processed, how it is reordered and restocked. What we are working on is making business process intelligent; being able to do more automation within your business processes without you having to touch it. The machine understands the most efficient way to deliver products to the customers."
Four breakout sessions in the second half of the day presented news on NetSuite releases in 2017. The streams were tailored to prospects, customers, and partners.
The event was especially exciting for us as we were there to represent Anderson Frank, the global leader in NetSuite recruitment and the only NetSuite aligned agency in the world. Let's see what next year's event will bring.