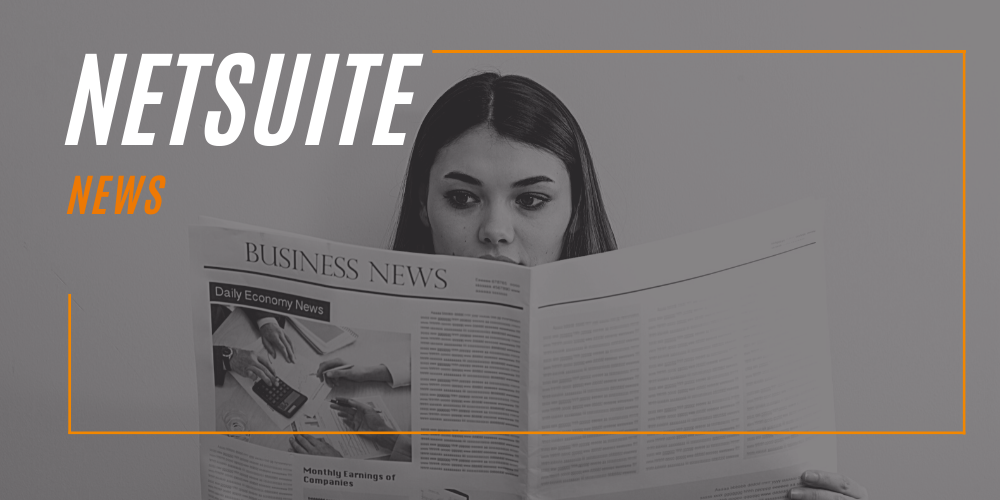 At the start of the year, NetSuite and Oracle hit Wall Street and shared more plans for the first full year of the companies' partnership. February once again brought more NetSuite news, and we've rounded up the biggest happenings.
NetSuite and Spotify
In remarks at the Slush 2016 conference late last year, the CEO of global streaming giant Spotify, Daniel Ek, spoke about the company's decision to switch over to NetSuite from Microsoft Dynamics.
Ek spoke of the need to differentiate between 'high-variance' and 'low-variance' problems and, as an example, he talked about how the company stopped using a version of Dynamics that had stopped being supported in 2001, a decision that led the company to NetSuite.
See the remarks here:
Quicken to NetSuite
Last October, the newly independent Quicken completed its implementation of NetSuite OneWorld and, in late February, NetSuite told the story of how it happened in a blog post. The move, which followed Quicken's divestiture by former parent company Intuit, took about six months, was on time and under budget and has been a 'seamless' transition, Quicken executives said. Quicken controller, Gary Hornbeek, described NetSuite ERP as being ""It's not too complex, it's not too simple. It's flexible and powerful, but still easy to use…it's just right."
---
Worldwide expansion continues
As part of the expansion that followed the completion of the NetSuite Oracle acquisition, NetSuite's Global Business Unit announced on February 1 that it would make a move into the Nordic region, opening a new office in Stockholm. In addition, NetSuite will up its investments in the U.K. and Ireland, while also opening a new facility in Amsterdam.
Webinars galore
Several NetSuite-related webinars took place in February. These included:
Follow backlinks for archived versions.
NetSuite's trends
NetSuite has released a series of blog posts on top trends expected in various industries for 2017- everything from advertising to retail to software to manufacturers to nonprofits to transportation to media and entertainment. Common trends throughout the industry?The modernization of the customer experience, new display technologies, and changes in the way customers make their purchases.
---
Hurd speaks
Oracle CEO Mark Hurd talked about the company's plans for NetSuite, while speaking at the Goldman Sachs Technology and Internet Conference in San Francisco on February 14.
---
NetSuite's She Knows Media story
NetSuite released a video about how its NetSuite Cloud ERP helped out SheKnows Media, a women's lifestyle digital media company. The company, publisher of SheKnows.com, BlogHer.com and other sites, chose NetSuite's Cloud ERP in order to support its growth, which included handling a large amount of data, whether in dealing with contributors, influencers or advertisers.
See the video here:
---
NetSuite at the Duck Store
Late last year NetSuite completed an implementation at The Duck Store, a supersized campus bookstore and memorabilia retailer at the University of Oregon. In a new NetSuite video, complete with Friday Night Lights-style music, The Duck Store's leaders- "Ducks serving Ducks"- talk about how NetSuite's cloud-based omnichannel commerce and ERP solutions met the needs of the store, especially on super-busy football game days.
---
New NetSuite book
A new book, the NetSuite Security and Audit Field Manual, by Andy Snook, Mark Polino and Zach Wear, was published on February 8. The book, according to its Amazon description, was written in order to 'help users, administrators, and auditors better understand how to plan, implement, and audit NetSuite security.'
---
SuiteWorld 2017
SuiteWorld 2017, which takes place in Las Vegas from April 24-27, is now just over seven weeks away. NetSuite has announced much of the program, sessions and training for the event. Still to come are exact times of keynote addresses, as well as the entertainment for the SuiteWorld Gala on April 26. Anderson Frank is a proud Silver Sponsor of SuiteWorld 2017, and will host a booth and deliver a presentation at the event.
User groups
NetSuite User Group meetings were held throughout the country, in Minneapolis, Pittsburgh, and Philadelphia. More are set for March, including New York and Atlanta. Anderson Frank is a Silver Sponsor of the New York NetSuite User Group's conference on March 23 in New York City.
NetSuite Salary Survey 2017
Anderson Frank released its first NetSuite Salary Survey this month, which measures work and compensation trends in the NetSuite world.
Need a NetSuite professional?
Tell us your requirements and let our sales experts find you the perfect candidate.