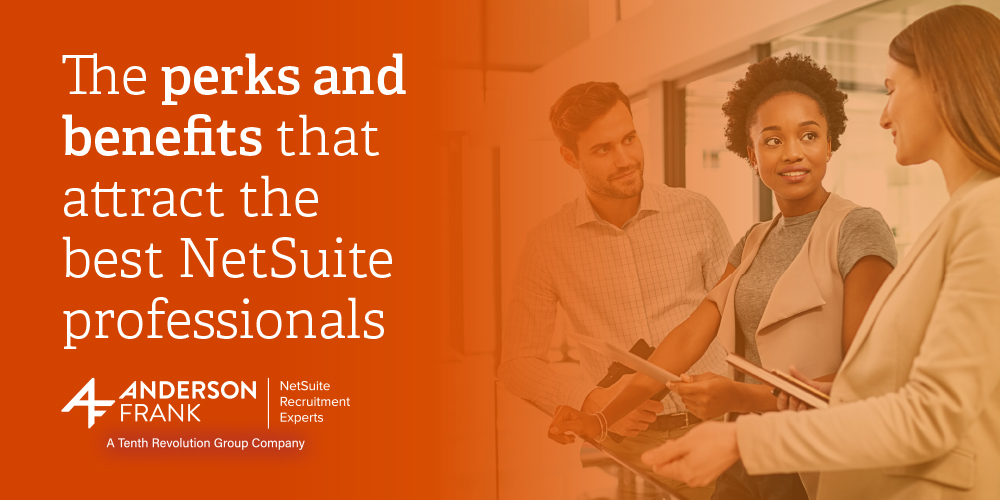 In a world where we can work anywhere, tech companies can widen their search, reaching a global talent pool, rather than a regional one. The only caveat is that employees then also have the ability to choose from a much greater, global list of employers. In the age of 'The Great Resignation', where tech professionals are 10.2% less likely to stay in their current positions when compared to non-IT employees, companies are having to fight hard to keep the employees they have, as well as attract and retain new ones. 
82% of permanent employees we surveyed responded that salary aside, workplace benefits are the next factor they consider when deciding whether to accept a job. 
So, what are the perks and benefits that you need to be offering?  
In this post, we will cover what perks and benefits you should be offering your employees to attain and attract the top NetSuite talent based on our findings in our Careers and Hiring Guide, giving you the best advice taken from the opinions of the professionals themselves.  
Wellbeing  
Being a good employer means offering support both inside and outside of the workplace, too. If the pandemic taught us anything, it's that health should always be a priority over work – and that's something you need to reflect in your benefits package.  
According to our report, the perk professionals value most was medical insurance garnering 48% of responses. While this means financial input, having this in place will prove that you, as an employer, care for your employees personally, helping them deal with the costs of any health issues that may arise during their time with you. As an employee you want to feel safe, especially in unprecedented times, so knowing that you have insurance in place to cover any medical costs is important for any employer to ensure. 
It's not only physical well-being but also mental that needs to be represented in the benefits you offer your employees. According to research, a perk that employees want but are yet to receive is access to a gym membership, whether that be in full, or a discounted membership. Finding ways to integrate physical workouts not only ensure your employees exercise their bodies but give their minds an important break from work commitments too. 
Of course, there are ways to include such activities outside of your benefits package, with weekly meditation sessions or on-site yoga, for example, yet, having this in your offering shows candidates from the outset that wellbeing is not only a priority but something you are committed to maintaining. 
 Take your next step with us.
Find your dream NetSuite candidate today with Anderson Frank
Rewards 
As an employer, you hope that the reason someone wants to join your business is that they support your values and want to be a part of your growth, but a lot of candidates are attracted to financial incentives. Bonuses have been a staple of employee pay cheques for decades, so it's understandable why it is viewed as one of the most valued benefits.  
41% of candidates we questioned believe that bonuses are the second-most attractive perk a business can offer. 
It's an additional expense for your business, which in the current climate may seem expensive, but bonuses are a great way to stand out amongst your competition and position yourself as a business that rewards top talent. It not only attracts but also retains the talent you already have, motivating them to work to their best which in turn boosts your operating efficiency–it's beneficial for everyone!  
Bonuses, whether quarterly or yearly, aren't the only forms of financial perks you can offer. From our survey, we found that 20% of NetSuite professionals value having a retirement savings plan in place, which not only attracts talent but also encourages their long-term loyalty to your company. It not only attracts older talent but also the younger generations too; allowing employees to grow their skill set and their wealth with your company minimizes the risk of losing talent down the line. 
Work-life balance 
While remote working has many benefits, it can also make the divide between personal and professional lives harder to distinguish. Naturally, finding an employer that encourages and celebrates a healthy divide is a priority for many candidates. 
25% of candidates we surveyed stated that a better work-life balance would motivate them to pursue a role, so having practices in place to ensure this is crucial. 
Naturally, this means that flexible working hours are a high priority, with 32% of NetSuite professionals believing it is one of the most valuable perks a business can offer. While this won't be viable for every business, it's a great way to give employees autonomy to work in a way that best reflects their circumstances, receiving better results and overall employee satisfaction.  
Saying the way that we work in a post-COVID world has changed is an understatement, yet the quick response to an unprecedented event is now a perk that professionals value. 30% of respondents report that they now receive home working as a perk. While some businesses have embraced hybrid working (the happy medium between office and remote working) it's up to employers to communicate with their employees and find a way to best suit their needs.  
Already offer these perks or simply want to know what else professionals are looking for in their job search? Be sure to download our Careers and Hiring Guide to discover all you need to know to improve your recruitment efforts.