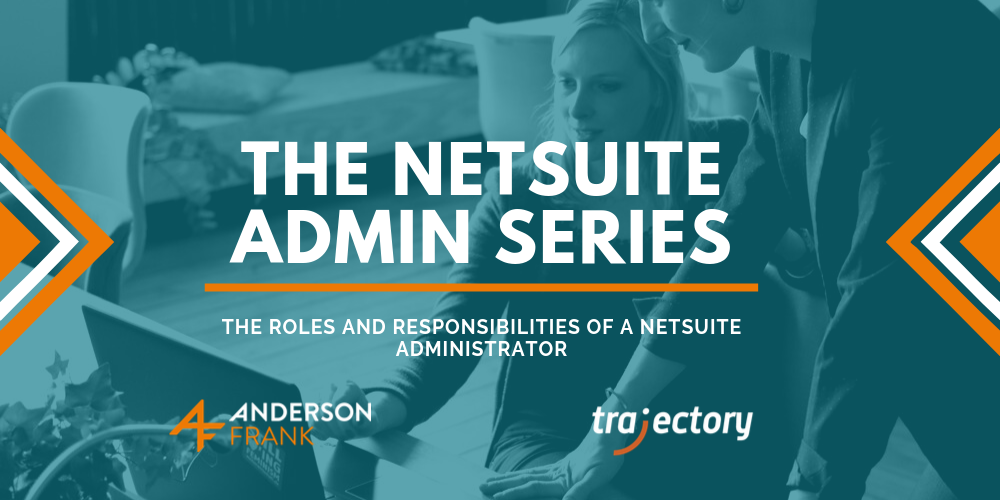 We've teamed up with the NetSuite Solution Provider Trajectory Inc, to work on a series of articles based on the life of a NetSuite Admin. Check out Trajectory's article:   NetSuite Developer Tools 
Starting out as a NetSuite Administrator
What is a NetSuite Administrator?
The Administrator is the heart and soul of any great NetSuite team. Their day-to-day duties involve configuring and maintaining the software so a company can maximize its workflow and achieve its business goals.
It's a role that requires excellent versatility, combining all the traits of a savvy business guru with a tech specialist. Businesses need someone familiar with using NetSuite's native tools to create, integrate, and maintain high-performing dashboards that can be tailored to their needs. You will expect to ensure the backend functions correctly, be able to translate a user-friendly, customizable, and accessible dashboard, provide on-going technical support for all members of the team, and finally, have a firm grasp of the trends affecting the industry.
The life of a NetSuite Administrator is often hectic, fast-paced, and filled with high-pressure situations. That makes their soft skills just as important; you'll need a calm head with a knack for problem-solving, as well as the ability to communicate effectively with your team.
The background of a NetSuite Administrator

Now you understand the core responsibilities of the role, let's look at the variety of backgrounds that can help you secure a career as a NetSuite Administrator. As previously mentioned, the ideal candidate for a NetSuite Administrator role has a combined skillset of technical, business and financial capabilities under their belt. The question is: what qualifications and experience does a NetSuite Administrator need to accumulate said skillset, and gain the NetSuite job of their dreams?
The best place to start will be the experience you may be expected to possess. Our annual salary survey is a great way to get a holistic view of the NetSuite ecosystem. This year, we discovered that 66% of respondents have at least a Bachelor's degree or equivalent. Conversely, 68% have NetSuite certifications.
The majority of respondents stated they have a qualification in Computer Science, followed closely by Accounting, with other educational backgrounds including Business Administration, Finance and Economics.
However, during our survey, we also found that only 34% of participants felt that obtaining a degree is important when pursuing a role within the NetSuite industry, with a further 41% stating that experience in NetSuite is more of an essential factor.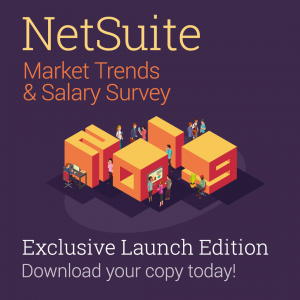 Gain more of an insight into the Netsuite community
Get your copy of our annual, independent report of market trends, salaries and sentiments within the NetSuite community.
What is essential for a NetSuite Admin resume?
Previous experience in the industry
During our salary survey, we found the majority of respondents had over 19 years' experience within their field; with 53% of respondents having three-to-six years specializing in NetSuite software, and a further 6% of successful NetSuite professionals having less than two years' experience within the tech industry.
The above data demonstrates that experience within the tech industry is not essential to excel within the NetSuite market. When asked to stipulate what is crucial to the role, 50% of our survey participants indicated heavily towards exposure to large projects, experience in vertical markets and earning a NetSuite certification.
NetSuite Certified 
Within our salary survey, over two-thirds of respondents reported having at least one NetSuite qualification, with 85% of professionals indicating that being certified makes them more valuable within the market.
If you lack the educational background or the relevant experience for a NetSuite Administrator role, consider investing in becoming NetSuite certified to boost your employability. Not only will you gain a new technical skill, but you'll also demonstrate to your future employer that you have a sense of initiative, as well as a willingness to learn.
NetSuite has a wide variety of certifications available for a career as an admin, such as a SuiteAnalytics, Suite Flow, and SuiteFoundation.
Finding the right NetSuite Administrator job for you
We've given you an overview of what a NetSuite Administrator role involves, and the primary routes you can take for your next career move in the NetSuite market; now we need to find the right job for you.
As we said, the responsibilities of a NetSuite Administrator typically involve a combination of technical and soft skills, as well as a resume that is brimming with a variety of qualifications and experiences. However, before you dash off to update your resume, you need to remember that your role as a NetSuite Administrator will differ depending on the company you're working for and their individual requirements.
The NetSuite market is filled with a diverse range of opportunities, from permanent positions to short contracted jobs. Let's compare the two to see which area will benefit your lifestyle as well as make the most of your skillset.
Skip straight to the source 
By allowing our staffing specialist to find you your next NetSuite admin role.
A permanent NetSuite role
The percentage of NetSuite permanent roles
In today's market, there are various ways of working, from freelance to remote, to even being your own boss. Even with the rising trend of telecommuting and hot-desking, a good old-fashioned 9-5 job still holds an essential place in the ecosystem.
Our salary survey reported that 81% of our respondents were in a full-time permanent position, with permanent administrator salaries ranging from $65,000 – $155,000 across North America.
The appeal of a permanent position is clearly tempting for a lot of professionals; we found that 72% of freelance professionals said they would consider switching to a permanent role if the right position came along. They indicated that factors such as improved salary, stability, positive working environment, and benefits packages would influence their decision.
What experience is vital for a permanent NetSuite administrator role?
As we mentioned, the role of a NetSuite Administrator can vary depending on the job in question. That said, there are foundational skills that anyone taking on a NetSuite Administrator role will be expected to have. Let's take a look at the proficiencies and experience that employers are looking for in a NetSuite Administrator. These are all taken from recent job adverts on Anderson Frank.
Experience and qualifications for a permanent role
NetSuite Administrator Certification preferred
Bachelor's degree in relevant discipline
Three-to-five years of hands-on experience with NetSuite customizations and data migration
Extensive experience as a business systems analyst
Fully efficient in custom record types, fields, forms, roles and permissions, page layouts, searches and reports, and NetSuite data model
Can demonstrate experience with CRM or ERP systems
Key hard skills for a permanent role

Experience overseeing NetSuite integration, implementation and testing
The ability to support data import process and migration
The ability to maintain NetSuite updates
Can create configurations and customizations of NetSuite to meet the business needs
Can provide on-going systems and technical support for the NetSuite system
Is familiar with the NetSuite dashboard and can provide users with relevant reports and KPIs
Specializes in NetSuite ERP program with prior experience with NetSuite CRM and eCommerce
Strong understanding of billing, payments, A/R, general ledger, revenue recognition, planning, audit, and reporting
Key soft skills for a permanent role
Can exercise strong problem-solving skills, and analytical thinking
Has exceptional written and verbal communication skills
Has the ability to liaise with different departments and multiple business disciplines
Can demonstrate strong leadership skills
Can confidently provide support and user training across departments
The responsibilities of a NetSuite Administrator can vary depending on the role, so don't feel discouraged if you didn't tick every box within the overview above, as your own experience may bring something new to the employer's table.
Does the life of a permanent NetSuite Admin appeal to you?
Then take a look at the latest opportunities we have on our job board.
A contracted NetSuite role
Permanent roles do have their perks, but maybe it doesn't quite fit your character to be tied down to one environment. Let's have a look at the possibilities and the benefits of being a freelancer, as well as the skillset required to be a freelance NetSuite Administrator.
The percentage of contracted NetSuite roles
In this year's salary survey, we discovered a 7% increase in NetSuite professionals working freelance, with 13% of our respondents currently working on a contract basis.
On average, a contracted NetSuite professional spend between 31 and 40 hours a week working on projects. They typically work with six clients simultaneously, balancing an average of seven projects that each last around 10 months.
When it comes to the benefits of contracting, 85% of those surveyed claimed that remuneration was the most influential factor when accepting a contracted role, followed by remote flexibility (74%), flexible hours (72%), and the duration of the project (62%).
Think contracting might be for you? Let's have a look at what kind of skills are needed to gain a contract NetSuite Admin role. As before, these are all taken from recent NetSuite job ads.
What experience is vital for a contracted NetSuite administrator role?
Experience and qualifications for a contracted NetSuite Administrator role
Previous experience working NetSuite CRM, ERP.
Has configured drop-shipping components within the NetSuite environment.
Exposure integrating components with third-party applications.
At least one year of experience acting as a NetSuite Technical Administrator or NetSuite Consultant.
Key hard skills for a contracted role
Serve as the go-to person for the NetSuite platform
Provide on-going post-implementation support as the NetSuite Administrator
Drive testing, planning, execution, and optimization support
Work with end-users to understand business needs to identify best solutions
Perform day-to-day operations, maintenance, support, and troubleshooting activities through prioritization of requests
Develop, test, and deploy customizations, custom objects, and third-party applications
Implement and manage workflow rules, approval processes, page layouts, security, validation rules, email, and custom buttons/links
Support the configuration, development, and continued evolution of the NetSuite ERP system
Customize and maintain reports, NetSuite dashboards, and save searches
It is worth taking into consideration that the technical skillset for a contracted NetSuite administrator doesn't differ massively from a permanent position. However, the work-life balance will differ between the roles; a contracted admin will need exceptional communication skills to help deliver their technical services to a variety of clients.
Key soft skills for a contracted role
Great problem-solving skills
Capable of recommending the best business practices
Capable of handling complex inventory
Strong ability to organize and streamline projects
Proficient communication skills
Can confidently be the go-to person for your client's NetSuite platform
Does the life of a freelance NetSuite Admin appeal to you?
Then take a look at our latest NetSuite contractor jobs!
Finding a NetSuite work environment for you
There are benefits to both permanent and contracted NetSuite Administrator roles. The specifics of the project brief may differ, but both require a combination of skills to carry out day-to-day responsibilities.
The significant difference is your work environment. To truly enjoy a career as a NetSuite admin, you need to think about how you prefer to work: remotely in the comfort of your own home, or in a single work environment with the habitual structure of a 9-5?
Whatever your circumstances are, be sure to find a NetSuite Admin role that highlights your skillset and can satisfy the way you want to work.
The NetSuite market is brimming with different options, so whether you're a person that takes great comfort in nesting into a secure permanent position, or a character who enjoys traveling and doesn't like to be tied down, don't miss out on the opportunities available to you today.
Be the first to know about new NetSuite admin roles
Gain quick access to the newest NetSuite admin jobs by creating daily email alerts that fit your requirements.