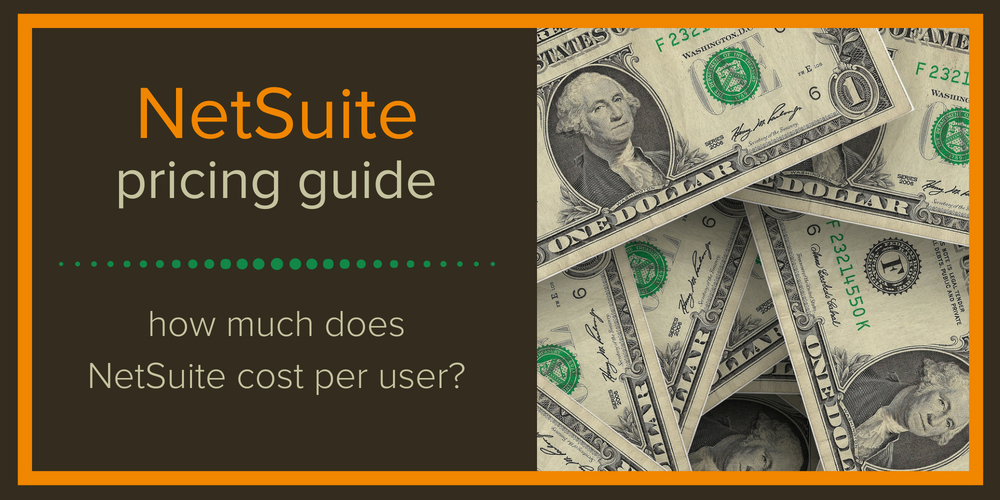 Over 40,000 businesses across the world currently use NetSuite, but what does the NetSuite pricing structure look like?
It's an important question to ask, especially when it comes to assessing and purchasing software that you will come to rely heavily upon throughout the growth and expansion of your business. Before making any sort of investment in software, you must first be sure that it is suitable for your needs, and then that the spend (both initial and longer term) suits the budget that is in place.
Thoroughly assessing software such as NetSuite before buying into it also helps you to build in additional costs such as implementation, and the hiring and training of the relevant staff across company levels and roles (such as Administrators and Developers).
With that in mind, let's look at what NetSuite offers businesses, and break down the pricing structure for NetSuite.
What is NetSuite and what does it offer businesses?
Companies from at least 100 countries are drawn to NetSuite due to its flexibility, as well as its way of bringing multiple essential business processes under the umbrella of one cloud-based program. The opportunity for multiple add-ons that are developed by third parties to solve specific or wide-ranging issues such as scheduling, automation, and creating workflows is also a big factor in NetSuite's success.
Customer Relationship Management (CRM) and Enterprise Resource Planning (ERP) form the bulk of what NetSuite offers to users, making it easy to manage inventories, reach out and engage with audience demographics, maintain contact and lead clients through a customer journey, as well as keep track of important corporate information.
Using NetSuite and its cloud-based services eliminates the need for an in-house server and all the equipment that comes with it, so the cost of maintenance is already slashed. The software also automatically updates itself, so there's no need to worry about wasting time and resources in order to keep on top of the latest versions.
NetSuite is relatively easy to initialize and manage and, since there's no need for any extra hardware to make it work, it's easy to see the appeal for pretty much any business type; from large companies to those just building up their customer and client base.
How much does NetSuite cost?

Before looking at the specifics of pricing for NetSuite, it's important to understand just what the NetSuite pricing model looks like for a business. There are three tiers to choose from, all including NetSuite CRM and ERP features as standard, and each is defined by the NetSuite cost per user.
Limited Edition – This is the most basic of the NetSuite price levels. Limited Edition requires your company to have less than 50 employees, but will allow you to name up to 10 registered users.
Mid-Market Edition – There's no maximum staff number with the Mid-Market Edition, but the increase in possible named users is substantial to say the least. With the Mid-Market Edition, you can buy licenses for anywhere between 11 and 1,000 named users.
Enterprise Edition – The Enterprise Edition is the highest tier version of the NetSuite license. As with the Mid-Market Edition, there is no cap on the maximum number of staff in your business to qualify. In fact, the Enterprise Edition offers the ability to license an indefinite amount of named users, so long as there are over 1000 of them.
While these are the most regularly used versions of NetSuite, a Financial Edition is also available.
Pricing for NetSuite licenses
NetSuite pricing may be annual in terms of the user license, but not every business will end up paying the same price to use the software. The CRM and ERP solution is, by design, highly customizable, and so must be tailored to your specific requirements in order for you to get the most out of it.
This means that licensing costs can vary but, as a rule, the NetSuite pricing model means that the price you pay per year will be mostly affected by a few key factors. These include:
The number of users
The length of the contract
Additional modules required
Selected NetSuite configuration
Even with these variables, the basic cost of NetSuite ERP and CRM (Limited Edition and Financial Edition) comes in at $11,988 for the year (a monthly cost of $999), with individual user access amounting to $99 per month ($1,198 per year). Additional users can be included by simply purchasing user access from your browser.
"Although NetSuite's entry level pricing is on a par with other vendors targeting the same growing and midsize marketplace, because it is a true cloud-based platform, pricing generally scales to suit the size of the company," notes Jon Ryan, Managing Director of the five star NetSuite partner, BlueBridge One. "Often you will find a high growth company in its incubation stage adopt NetSuite at the start. Years down the line the same company has grown significantly and is still using the same NetSuite platform to manage global business."
While part of the appeal of NetSuite is its scope for customization and, as Jon mentions, scalability, it is possible to buy an 'off-the-shelf' version of the software. A pre-bundled edition that comes with a set of functionalities to suit a broad range of businesses, these packages can be especially useful for those making their first foray into using the software. If you can easily identify the modules and package that best suits your needs, then a more generic package be the best short term solution.
The cost of NetSuite software modules
In order to get the absolute maximum out of NetSuite CRM and ERP, you need to look at which modules you need. Modules are available to enhance and simplify a huge range of business tasks and processes.
Some of the most in-depth tools, such as Advanced Inventory, Advanced Financials, Incentive Compensation, and Fixed Assets (which make business intelligence gathering and analysis a far simpler prospect for the likes of Financial Directors) will each add around $7,000 to your annual NetSuite cost. Discounts may be available on one or all of these products, but their value will likely come down to how much time the relevant parties in your business spend grappling with these processes, either unassisted or using less streamlined methods and programs.
As with other aspects of NetSuite pricing, payment for modules is staggered, and typically involves an annual subscription. The modules you buy should always be tailored to your business and its specific needs, so customization is the name of the game. If you find that a certain module is not proving to be financially viable then it should be canceled when the subscription renewal date comes around. Likewise, purchasing and activating additional modules can be done with ease, at any time.
Unsure which NetSuite products are right for you?
For a detailed rundown of NetSuite's products and services, check out Anderson Frank's
comprehensive guide
of the NetSuite catalog.
Other costs to consider
Of course, it's not as simple as just setting money aside and paying for your license and users on a monthly basis. There are other costs that must be taken into account, as well as your annual module price.
At the most basic level, there is the cost of implementation, as well as any customization options that are required. The number of registered users must also be taken into consideration, as well as their wages based on job roles and superiority. How much you end up spending on NetSuite could end up varying dramatically based on the structure of your team and their salaries.
The final major cost to consider is technical support. Standard NetSuite tech support is included with every iteration of the NetSuite license (whether you choose the Limited Edition, Mid-Market Edition or Enterprise Edition) and should be able to provide any help, guidance, or assistance that you could need during standard office hours.
Some businesses will require a greater deal of flexibility when it comes to support and working hours, and for those companies, paying out extra and upgrading to NetSuite Premium Support is likely to be a shrewd decision.
It's important to point out that pricing for NetSuite Premium support does not come at a flat rate. Instead, the cost of NetSuite Premium Support is calculated based on your annual contract value, and you will be charged 10% of your full annual cost in order to access NetSuite Premium Support. That means an additional cost of $5,000 per year for a full annual subscription of $50,000.
NetSuite pricing conclusions
As you can see, NetSuite pricing is dependent on many different factors. The truth is that no two companies are likely to end up paying the same amount for NetSuite annually, thanks to the individuality and customization that forms the core of the NetSuite pricing model.
Hopefully, you will now be able to proceed with your NetSuite implementation with a better idea of the cost to your business, based on the modules, users, and editions that you need.
Create your Netsuite dream team with Anderson Frank 
We have a whole team of trained NetSuite staffing specialists waiting to find your ideal candidate. Start discovering your next great hire today.